Rebuilding Myself: How Rehabilitation and Fitness Led to My Athletic Breakthrough
From going through spine surgery to becoming an athlete, this is Alyona's journey with Altum Physio Pilates and Musa Fit. Be inspired to work on your physical and mental well-being under the care and guidance of professionals.
Meet Alyona, a mother of two beautiful young children who had never visited the gym prior to her spine injury. She lived a sedentary lifestyle and often felt tired and unmotivated. In January 2022, Alyona underwent spinal surgery, which left her feeling weak and sore. It was difficult for her to take care of her children while trying to regain her strength.
That's when she started her rehabilitation journey with Joanne Chong, a Clinical Pilates teacher and Jaden Lim, a Physiotherapist, both founders of Altum Physio Pilates. After going through rehab for over a year, Joanne introduced Alyona to Bego Hualde, Founder of Musa Fit, a Personal Trainer and Group Fitness Instructor, to help her with strength training and to inspire her to set bigger goals in her fitness journey.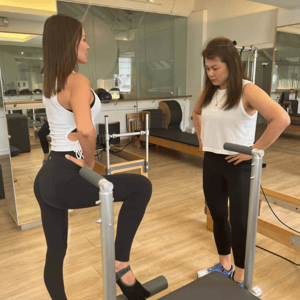 Alyona (left), Joanne (right)
Alyona approached the training programme with the intent of improving her physical fitness with a big-picture goal – hence the need to make drastic changes to her nutrition, lifestyle, and overall well-being. The initial phase of the training programme was to teach Alyona the technique of basic exercises to develop and improve her strength, endurance and performance, alongside the goal of changing her body composition to reduce fat levels and build muscle.
Alyona made amazing progress within the first few sessions with Bego. Her body composition and physique quickly improved with tailored training and nutrition plans. Alyona also displayed discipline, focus and consistency, adhering to her programme, never missing a session and always giving 100%.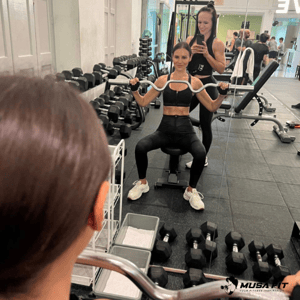 Alyona (front), Bego (back)
Working closely together for a few months, Alyona began to be inspired by Bego's own fitness journey and her experience in being an amateur bikini fitness athlete and competitor since 2018. As Alyona had shown incredible fitness potential, they both decided to compete in the National Physique Committee, NPC Singapore Showdown in February 2023. Alyona's fitness and nutrition plans were adapted to prepare her for the competition, and Bego, also a posing coach, introduced posing training to the programme.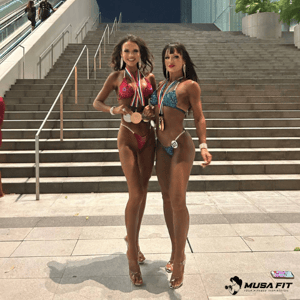 Alyona (left), Bego (right)
From the transition from illness to fitness, both Joanne and Bego played a huge part in prepping Alyona. Joanne designed her Pilates programme to help Alyona's body cope with the increased training load, and she also sought occasional Physiotherapy treatments from Jaden Lim to address any ailments.
For Bego, it was an extraordinary experience to compete together with her client Alyona. They both did very well in their respective categories. Alyona won silver medals in the Bikini True Novice and Bikini Open D categories and a bronze medal in the Bikini Novice B category. Bego won the gold medal for Bikini Masters 45+ and bronze in the Bikini Open C category.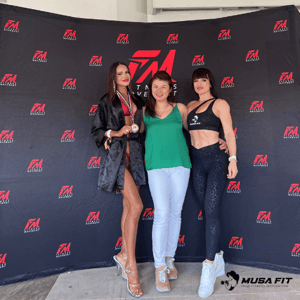 Alyona (left), Joanne (middle), Bego (right)
After the success of Alyona's first competition, Bego encouraged Alyona to participate in the Fitness Movement Singapore Nationals 2023. Alyona took fourth place in the Women's Bikini International category.
Seven months in, Alyona is now stronger, more motivated and has more energy. She has built an incredible physique and is aware of how to adjust her own body forms for exercises, together with proper nutrition habits, to sustain her newfound lifestyle. Her physical and mental well-being will continue to improve as she continues to work closely with both the fitness and wellness professionals at Core Collective.
Joanne helped me a lot with my post-surgery recovery. I was very weak and could barely move my toes. Back pain was always there but I was feeling much better after our sessions. We started with clinical pilates and when I became stronger she introduced me to Bego.

When I met Bego, I was not happy with my body composition and wanted to become stronger and build muscle mass in order to get rid of my chronic pain. On our first session, she told me that my body frame was very suitable for bikini fitness. At first, I could not believe it but I started to follow Bego's training and nutrition plans. My physique responded quickly to the change and after a short period of time seeing so much progress, we decided to prepare for the upcoming NPC Singapore Showdown in February 2023.

Bego has been very supportive with every step of the preparation. Her knowledge and experience helped me to get ready to compete in 6 months. Most importantly, I have really enjoyed every step of the way. I have found a sport that I love and would like to continue to improve with Bego's help.
Alyona
---
Featured Contributor: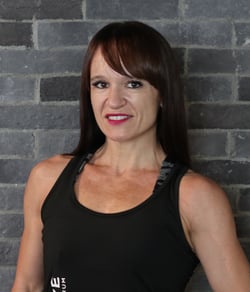 Begona Hualde
Bego is the Founder and CEO of MUSA FIT. She helps individuals to get strong, toned, and confident and improve their general well-being, both physically and mentally with a variety of fitness programs, one-on-one PT, groups and online. Her programs are inclusive and for all fitness levels.
Clients can expect a motivating and engaging session that will push them to be the best version of themselves. Bego's high energy and enthusiasm are contagious, encouraging her clients to keep improving and levelling it up in a safe manner. Bego always strives for the best outcomes, providing tailored and comprehensive programs for her clients.
If you would like to find out more about bikini fitness/ competing, the benefits of bodybuilding for women and improving your well-being in general, please contact Bego Hualde through Instagram @begohualde @musafit_sg.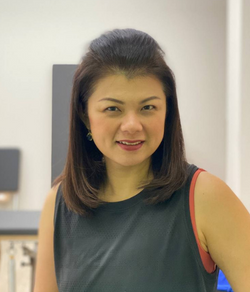 Joanne Chong
Co-Founder of Altum Physio Pilates
Joanne graduated from the University of Canberra with a degree in Sports Administration and worked in Singapore Sports Council.

Feeling the benefits of Pilates, Joanne pursued Pilates certification under Stott Pilates and Smart Movement. Today, she marries the best of contemporary and classical pilates to create programs for post-acute conditions to restore, realign and rebuild the body.
---
Inspired by the transformation of Alyona and how our fitness and wellness professionals can help change your life? Find out more
.
If you're a fitness or wellness professional interested in networking or growing your business, Core Collective is home to over 100 fitness, wellness, beauty and lifestyle professionals who can help you live your best life. Achieve your health goals by getting started
today!