Dietitian Shares What to Eat to Fuel Yourself for a Run
An understanding of pre-run nutrition is useful for runners of any caliber. Fuelling yourself with the right kind of food before a race can help you run fast and feel good while doing it (and also prevent you from having an upset stomach later on)!
Patsy is a dietitian, working alongside Rehab & Beyond therapists for rehabilitation, prevention, and better health, and is also a certified FISAF Personal Trainer. As she's a run enthusiast herself, we knew that there was no better person to share more on how and what to eat to fuel yourself for a run.
Deciding on whether to eat before a run to fuel yourself should be determined by a variety of factors such as your schedule, availability of food, how hungry you are and your level of anxiety for the training session or race. So, while there's no definite answer to the question of whether you should eat pre-run, there are undoubtedly some benefits to doing so:
Replenishes your liver glycogen after an overnight fast and minimises the negative effects of low blood sugar

Provides accessible and usable carbohydrates or fuel for the early stages of the run

Maximises muscle glycogen store for use in the later stages of the run

Tops off your fluid levels and helps prevent dehydration during the run
To Eat or Not to Eat?
Apart from the factors mentioned above, other considerations when deciding whether to fuel yourself before your run are as follows:
The type of run
Gobbling down some food before a run provides fuel for the early part of the run and also delays the body's dependence on muscle glycogen stores. When fully loaded, our glycogen stores provide enough calories to sustain around 90 minutes of moderate to high-intensity steady-state running, and 60 minutes of high-intensity speed work or interval training. Generally speaking, it's ideal to fuel yourself with a meal 3-4 hours prior, or with a snack (such as a sports drink or energy bar) 1-2 hours prior to more intensive workouts or long-distance runs.
For shorter distance or recovery runs, the need to fuel yourself with food prior to the run becomes less important.
Timing of the run
Early morning, lunchtime or after work? The timing of your run is also something that can determine what your pre-run feed should look like and when it should take place.
Blood sugar (or glucose), is a product of the carbs that you ingest and is a major source of fuel for the body. As a result of overnight fasting that occurs while we are sleeping, we tend to have low blood sugar when we wake up in the mornings. Some symptoms of low blood sugar include lightheadedness, blurred vision, difficulty concentrating and irritability. None of these symptoms make for a productive or enjoyable run, and to prevent or counter these symptoms, it'll help to snack on something prior to your run.
Runs in the afternoon or evening are a little different because it's likely that you'll have eaten throughout the day and as a result, have full liver and muscle glycogen store. Runners with digestion problems prefer not to eat too soon before a run, and for these people, it's recommended to eat a well-balanced, carbohydrate-rich breakfast (for afternoon runs), or lunch (for evening runs) at least 3-4 hours before the workout.
What your stomach or gastrointestinal tract can tolerate
While you may not always be able to eat before every run, practicing good pre-exercise nutrition is a great way to not only maximise your workouts, but also prepare your stomach for your big race day (if you have one coming up).
It's important to know how your stomach tolerates pre-run meals and this may take trial and error to figure out. Give yourself ample time and several run sessions before the day of your race to test and find out which foods cause distress so you can avoid them, or which foods settle well so you can then incorporate them into your pre-workout or pre-race meals.
What to Eat Before a Run?
As you get closer to every workout, keep in mind that the greater the intensity of the upcoming workout, the more blood will flow away from the stomach and to the working muscles. As a result, digestion is slowed down, so choosing easily digestible foods that are low in fibre and fat and rich in carbohydrates are your best bet when picking what to eat before your run. Here are some examples of food that Patsy, dietitian, recommends eating:
3-4 hours before
½ cup rolled oats, ½ cup full-fat Greek yogurt, ½ cup sliced strawberries/blueberries and 1 teaspoon honey

1 slice of wholegrain bread/toast, 1 medium banana and 1 tablespoon of nut butter

1 tortilla wrap with 90g deli turkey breast/scrambled eggs and 1 cup of shredded salad vegetables
1-2 hours before
1 Rice cake with peanut/almond butter

Smoothie made with frozen fruit, yogurt, and ice/water/juice

Half an energy bar
Foods to Avoid Eating Before a Run
As you can imagine, eating foods that don't settle well as your digestion is slowed down during your run should be avoided to make your run pleasant and enjoyable. Here are some foods to avoid:
Greasy, deep-fried foods such as curry puffs and samosas

Foods high in fat such as burgers, bacon, pastries (donuts) and pizza

Sugary drinks such as bubble tea, canned sodas

Snacks high in fat such as chocolate and potato chips
---
Have any more burning questions about nutrition to optimise your workouts and health? Call us at +65 6250 1222 to book an appointment with Patsy!
---
Contributor: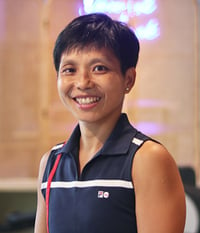 Patsy Soh is a NZ Registered Dietitian with a BSc in Human Nutrition from University of Otago, New Zealand, a Postgraduate Diploma in Dietetics, an MSc in Human Nutrition and 15 years of experience.
She started working in Changi General Hospital (CGH) and quickly gained clinical experience in seeing patients with diabetes, high cholesterol, gout, kidney disease, the elderly and weight management. After working for 5+ years in an acute hospital, Patsy moved on to corporate world to work for Nestlé, one of the largest food manufacturers in the world. She worked with various departments in Nestle to help attain the Healthier Choice Symbol (HCS) for their products and also trained all staff in health and nutrition. Subsequently, she returned to the clinical field of nutrition but this time it was to conduct research in preemies (pre-term babies). It was upon conclusion of the research study that Patsy decided to stay at home, due to the growing needs of her 3 kids (including a pair of twins).
As a dietitian, Patsy believes being fit and healthy is a holistic experience; hence nutrition, physical activity, and emotional well-being have to go hand in hand. To this end, Patsy completed a FISAF (Federation of International Sports, Aerobics and Fitness) course to be a Personal Trainer. This would better equip her to give exercise prescriptions in addition to dietary advice. She especially loves helping parents get back their fitness and back to healthy body weight. Patsy works amongst Rehab & Beyond's team of therapists to help others achieve their weight loss/maintenance goals through practical nutrition and exercise prescriptions.
---
Core Collective is building centres of excellence where the top fitness and wellness professionals collaborate to deliver the best service and results for you, all under one roof. Our curated community of partners are united by the shared values that we live each day, which are centred around delivering the best customer experience for you.
To find out more about Core Collective and the services we offer, visit our website by clicking here.