PERSONAL TRAINING
Undeterred Strength and Performance
Strength & Performance Coach
About Undeterred Strength and Performance
"Undeterred" - To persevere in a task despite setbacks.
Setbacks are inevitable no matter your age or status in life.
Their forms can be as simple as physical injuries and a lack of training structure… or as complex as mental health issues, regularly disrupted sleep from tending to your newborn child, and years of poor eating habits.
We, at Undeterred Strength and Performance, empower our clients with the following core values:
Resilience – With structured training and lifestyle management systems, we will guide you as you power through (or around) setbacks towards improved physical, mental and emotional health.
Clarity – Through various forms of accountability, we will help you take back control over your lifestyle and fitness aspirations.
Pursuit of Excellence – Be it through heavy lifting, fat loss or general fitness goals, we will help you realise the amazing feats your body is capable of achieving.
Whether you already train like an athlete or are completely new to fitness, we strive to help you build unstoppable strength, boost your energy, and feel sexy so you can be at your BEST at work and with family.
Connect with Undeterred Strength and Performance on their LinkedIn, Instagram, Facebook and Facebook Group.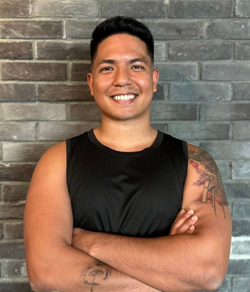 Daniel Paul Anugraham
Before starting his polytechnic studies in 2015, Daniel hardly knew what it was like to be sporty or 'fit'. Seeking a more active lifestyle (and less chubby appearance), he properly kicked off his fitness journey with the combat sport, Muay Thai.
He spent several years as a Muay Thai and boxing athlete, coached a few peers in both sports before enlisting into the Commandos for his National Service (NS) in 2018, and has dabbled in multiple fields of strength sports and fitness such as Crossfit, Olympic weightlifting and powerlifting.
Practising and coaching combat and strength sports, enduring his most gruelling NS experiences, and even powering through past mental health issues opened his eyes to the vast physical potential the human body is capable of achieving, as long as the mind is willing.
Daniel's fitness journey has since developed a passion in him to nurture people towards a fitter, stronger and healthier version of themselves, and to help them realise how capable they are as human beings.
Daniel also believes in flexible dieting and mental health balance to facilitate long-term progress. As he says, "Sort out your 'inner' work, so it's easier to sort your 'outer' work".
To demonstrate this, he never turns down a good burger or pint(s) of Guinness.
Qualifications
Bachelor of Science – Sport and Exercise Science (Edinburgh Napier University)
Strength System International Certification Level 3
ACE Certified Personal Trainer (American Council on Exercise)
ACE Group Fitness Instructor (American Council on Exercise)
ACE Behaviour Change Specialist (American Council on Exercise)