PERSONAL TRAINING
TRI Fitness
About TRI Fitness
TRI Fitness believes that people can move well pain-free. The team believes in 3 important things which are mind, body and nutrition. Focusing on these areas, their clients will be feeling great to get on with their work or life with ease. The team train their clients to thrive in every aspect of fitness which allows them to use their capabilities that they learn in the gym in their daily lives too.
Connect with TRI Fitness on their website and Instagram.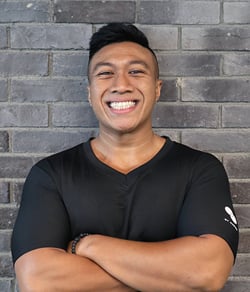 Farreez Rosman
Farreez's affinity for sports propelled him to enter the fitness industry. His passion and determination pushed him to upgrade his skills and emerge as one of the most sought-after trainers.
Farreez always ensures that his clients have his undivided attention, patiently guiding them towards their fitness goals. His sessions will undoubtedly leave you feeling exhausted yet accomplished.
Farreez subscribes to the belief of educating people, providing them with the framework, on top of their motivation, to change their lives positively.
Farreez exudes warmth and when he is not found in the gym, you can find him playing the guitar and serenading people with his angelic voice.