PERSONAL TRAINING
SURGE: Strength & Results
About SURGE: Strength & Results
SURGE: Strength & Results was the brainchild of Sam Gallo and Rishi Mirpuri - two of the most reputable personal trainers in Singapore with a common goal in mind; to take clients and forge them into a stronger, higher-performing and more durable version of themselves.
Elite personal training gyms can often be quite expensive, whilst pure online personal training programs however budget-friendly, can be very generic. SURGE's goal was to put something together as the middle ground for those wanting that little bit extra than the typical run-of-the-mill online coaching subscription, with a more budget-friendly alternative than the elite personal training gyms you have available today.
They are the first online training portal that incorporates 1-on-1 personal training so they can TEACH you how to execute the exercises in your training program SAFELY and OPTIMALLY. With that being said, they offer 1-on-1 personal training for those still looking for that premium option.
Connect with SURGE: Strength & Results on their website, Instagram and LinkedIn.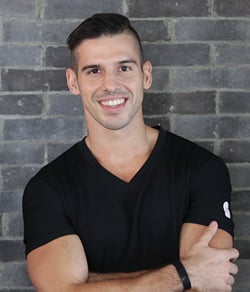 Sam Gallo
Sam has been a personal trainer for the last 10 years in Italy, Australia and Singapore. Very well known in Singapore, he was declared as the trainer of the year in the world's leading personal training company in 2017. For his impressive body transformation achievements, he was mentioned multiple times in different fitness magazines like Men's Health Singapore amongst others. He specialises exclusively in 1:1 personal training and is certified by NSCA and Sport nutrition specialist by NESTA
Sam is goal focused and helps clients in their 30s,40s and 50s achieve their best shape of life through:
Customised training plans: progressive overload for consistent progression, focusing on form and the right combination of exercises to optimise your time on the gym floor

Recommended nutritional strategies: reverse diet, metabolic diet, carb cycling, intermittent fasting protocols, flexible dieting, PSMF (protein sparing modified fasting)

Recovery and sleep management: the best recovery therapy and sleeping rules to maximise your performance inside and outside the gym floor

Consistent support & motivation: regular monitoring through body measurement and tracking performance progression
Sam will customise and tailor-fit a program based on your goals, fitness level and body type.
Sam believes that everyone can achieve their dream body despite any pre-existing conditions (slip disc, scoliosis, etc). He created SURGE with a mission to help clients sustainably achieve the most optimal shape & performance through small changes in their lives.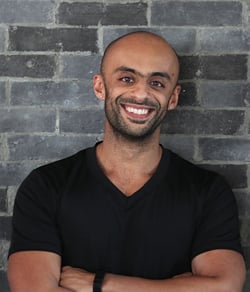 Rishi Mirpuri
With a decade of experience starting in Hong Kong and Singapore, Rishi has developed a reputation for being one of the most demanding trainers to work with in the industry. He firmly believes that when it comes to forging a new body or lifestyle, you need to transform your mindset first.
Rishi's passion for personal training stemmed from university, where he completed his BSc in Sport & Exercise Science and MSc in Rehabilitation. A certified NASM and PTA Global personal trainer, he has experience working with clients of all ages and backgrounds, as well as being known and published for his expertise in pre & post-natal training for women. He was also featured in SHAPE magazine in 2019.