PERSONAL TRAINING
SURGE: Strength & Results
About SURGE: Strength & Results
Founded in April 2020, SURGE Strength & Results is the brainchild of Samuel Gallo and Rishi Mirpuri — two of the most reputable personal trainers in Singapore with a common goal: to forge individuals into stronger, higher-performing, and more durable versions of themselves.
Currently, they are a growing team of 15 coaches with a variety of backgrounds in sports performance, nutrition, physiotherapy, and psychology. At Surge, they rely on experience-proven methods, scientific knowledge, and years of practice. Their high standards prompt them to constantly learn new things and always develop highly-personalized solutions. Every new coach joining the team has to go through a month-long internship program to learn the Surge approach, philosophy, and practices before they are assigned a senior mentor and begin coaching clients.
Their internal mentorship system allows them to maintain a consistently high standard across the team. Surge collaborates with top health and fitness professionals to leverage each other's knowledge and experience and values an open-minded approach that allows them to see the big picture and develop creative solutions.
Surge Ahead, Always.
Who is it for:
For those who are brand new to fitness and unsure where to start
For regular gym-goers who see value in more accountability or need an extra push to attain their next breakthrough
For seasoned fitness enthusiasts with a specific body composition or strength goal
Inclusives:
Initial consultation
Body composition assessment
1-on-1 PT session (60 minutes)
Customised training program
Customised nutrition plan
Connect with SURGE: Strength & Results on their
website
,
Instagram
and
LinkedIn
.
Sam Gallo
Co-Founder
Sam has been a personal trainer for the last 10 years in Italy, Australia, and Singapore. Well known in Singapore, he was declared the trainer of the year in the world's leading personal training company in 2017. For his impressive body transformation achievements, he was mentioned multiple times in different fitness magazines like Men's Health Singapore amongst others.

Sam will customize and tailor-fit a program based on your goals, fitness level, and body type.

Sam believes that everyone can achieve their dream body despite any pre-existing conditions (slipped disc, scoliosis, etc). He created SURGE with a mission to help clients sustainably achieve the most optimal shape & performance through small changes in their lives.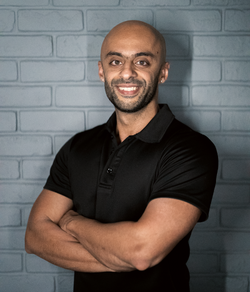 Rishi Mirpuri
Co-Founder
With a decade of experience starting in Hong Kong and Singapore, Rishi has developed a reputation for being one of the most demanding trainers to work with in the industry. He firmly believes that when it comes to forging a new body or lifestyle, you need to transform your mindset first.
Rishi's passion for personal training stemmed from university, where he completed his BSc in Sport & Exercise Science and MSc in Rehabilitation. A certified NASM and PTA Global personal trainer, he has experience working with clients of all ages and backgrounds, as well as being known and published for his expertise in pre & post-natal training for women. He was also featured in SHAPE magazine in 2019.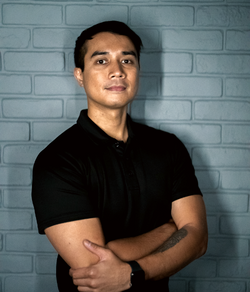 Paul Miranda
Senior Trainer
Paul is a licensed Physical Therapist in the Philippines and worked as a professor for two years, specializing in musculoskeletal and sports rehab in one of the well-known colleges in the Philippines. Paul moved to Singapore back in 2011 and was given the opportunity to work with one of the prestigious transformation gyms here in Singapore, where he was able to fully maximise his potential and became a senior trainer and mentor.
With 13 years of experience in personal training and with his vast knowledge of physiotherapy and anatomy, Paul was able to help clients improve their health, especially those experiencing pain when doing exercises (i.e. knee, back, and shoulder pain), by modifying and correcting movements.
Paul specialises in body recomposition, fat loss, weight loss, and muscle building. His ultimate goal is to provide life-changing transformation to his clients. He believes that transformation isn't a future event, but a present-day activity.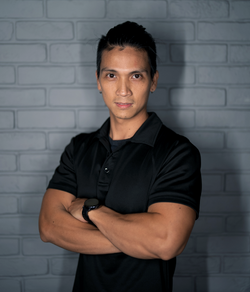 Jayson Bernardo
Senior Trainer
Jayson is a graduate of Bachelor of Science in Nursing and pursued his passion as a Personal Trainer. He's been in this career for 12 years and has worked in one of the elites and No.1 transformation gyms in Singapore. In 2018, he was declared as one of the Top 5 personal trainers in global ranking because he produced multiple transformations. He also achieved the title of Senior Trainer and Mentor there.
He specialises in body recomposition, weight loss, fat loss, muscle building, and strength and conditioning. He believes in applying the principles he's learned, keeping the basics, and making things simple in training and dieting.
His mission is to give you a positive experience that will lead you to a successful and sustainable body transformation.
Benny Lam
Senior Trainer
Benny specializes in helping beginners build their ideal physique through efficient weights training and smart nutrition. He has a track record of creating fast transformations.
He advocates finding the minimum effective dose for maximum results. Put simply, he seeks to do the least to get the most and he believes education and empathy are the answers to achieving that. As he likes to say, " Life is hard enough, why make it harder than it needs to be."
Benny's passion for fitness stemmed from his adolescent years when he was introduced to competitive sports. Over his many years as a competitive athlete, he has represented Team Singapore in Youth Basketball, Volleyball, and in the Men's Discus Throw.
As a personal trainer of eight years with 16 years of training experience behind him, Benny's rich understanding of the human experience and movement will be able to guide you safely and effectively.
The human body is the vehicle for achieving what is truly important, take care of it and it will take care of what matters.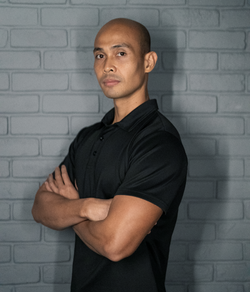 Carl Mancao
Senior Trainer
Carl is a Certified Strength and Conditioning Specialist (CSCS) by the National Strength and Conditioning Association (NSCA) and Certified Personal Trainer by the American College of Sports Medicine (ACSM). Carl has been in the Fitness Industry for more than 10 years now.
His target clients are individuals who want to transform their bodies and establish a habit/behaviour towards a fit and healthy lifestyle. The value Carl strongly holds about his practice is that he believes that every client has the capacity and the potential to succeed.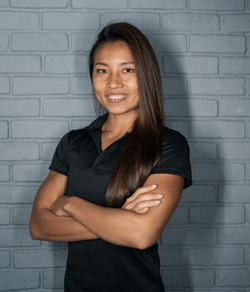 Jacqueline Toh
Senior Trainer
Jacqueline specialises in body transformation regardless of age, gender, and level of fitness (be it with or without pre-existing injuries or knowledge of weight training). She makes expert assessments and customises programmes according to each individual.
Her strong understanding of food and nutrition - in particular macronutrients - together with her love for cooking, lends a huge advantage to her and her clients in their fitness journey. Not only does she provide practical dieting advice, but also recipes and healthy alternatives that do not compromise the taste of a dish.
Jacqueline has a high track record of body transformations under her belt. She helps her clients achieve physical goals by improving their lifestyle, daily routine, and understanding of food without compromising the joys in life. Her proven capabilities and strong mindset have also won her competitions in bikini bodybuilding.
She believes that consistency is key to not just achieving short-term goals, but ultimately creating a sustainable lifestyle that people can maintain for the rest of their lives.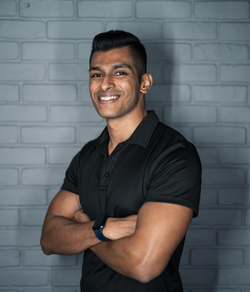 Mohammad Shaakir
Team Trainer

"Believe you can and you're halfway there" is something that truly resonates with Shaakir. When it comes to working towards specific and measurable goals with clients, he taps on the extraordinary power of thoughts to cultivate positive thinking within them. That's because he knows that thoughts drive actions. With him, you'll learn to keep going to see the results you want.
Armed with the extensive knowledge that he has gained while undertaking his bachelor's in Sports Development coupled with his personal training certifications, Shaakir is ready to help people look and feel their best as he understands the science behind coaching and exercise.
To him, fitness is much more than just exercise; it's an amalgamation of healthy nutrition and lifestyle habits. He will empower you to make informed decisions one step at a time so that you can achieve more long-term success while making exercise fun, and not a chore.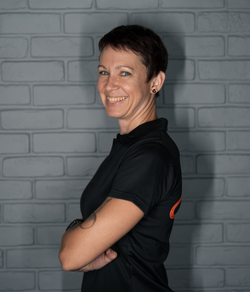 Maria Bondarenko
Team Trainer
Maria is an ACE-certified personal trainer who is passionate about helping people become the best version of themselves. She is a strong proponent of the holistic approach. Fitness is a way of living, not just occasional exercises. It includes your relationship with your body, your everyday physical activity, a suitable diet, the balance of work and rest, good sleep, and the ability to manage stress. Treat your body with respect and care, learn to listen to it, and you can achieve any desired transformation.
Combining devotion to physical activity, genuine interest in people, patience, and 15 years of working with people from different walks of life, Maria teaches trainees how to start, maintain, and enjoy active living at any age. She finds the scientific side of fitness fascinating and believes in measurable results, whether your goal is an improvement in body composition, a good posture, the correction of muscular imbalances, or pain-free running.
"To me, doing something significant means focusing on people. Sports do wonders in helping us feel great both physically and emotionally. And everything is possible when you feel good". #yesyoucan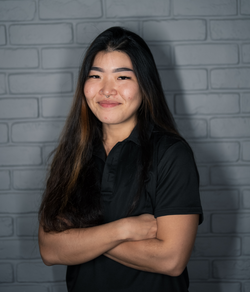 Iris Yap
Team Trainer
"It's all about showing up for yourself."
To Iris, fitness is more than just attaining one's dream body. It also fosters physical and mental endurance, accountability, and better emotional well-being. As an ACE-certified coach, she strives to help individuals realise their incredible potential and capabilities that will transcend beyond the gym floor. She believes that by allowing oneself movement and the right nourishment, anyone can achieve their desired results. Consistency and the process don't lie.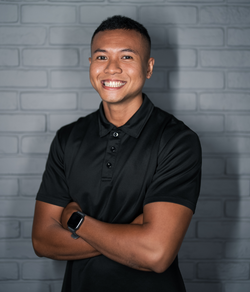 Mohamad Danial
Team Trainer
Danial is an NSCF certified personal trainer, experienced personnel in conducting group classes, and providing 1 -1 personal training.
Danial who has been in the fitness industry for 5 years is a nurturer and motivator by nature and strongly believes in helping each one of his clients achieve their fitness goals through a combination of proper diet, exercise, and rest. He takes pride in ensuring that all his clients learn and achieve the fundamentals of proper exercise techniques and basic nutrition.
He personally believes that all his clients should receive 110% from him despite the obstacles that he may face. He caters individually toward his client's fitness goals progressing as they seem comfortable, pushing when they know that they have that capability, and backing down as needed. Not giving up attitude is his key goal for his clients and himself and most importantly having fun while at it.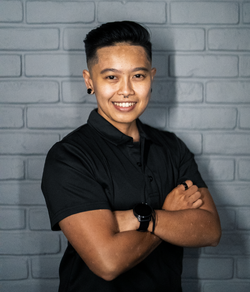 Charmaine Cheang
Team Trainer
"Always make a total effort, even when the odds are against you."
With her great passion for the world of sports, Charmaine has developed a high sense of adaptability to new challenges in life that constantly expands her endurance limits.
She completed her Diploma in Sports development at Australian Sports Academy and has 10 years of working experience as a personal trainer. She is certified in Cert III & IV along with multiple other certifications in the fitness industry, some of which are Fat Loss & Physique Transformation, ASP(Australian Strength Performance), and more.
She has competed in different sports under the State and National team in Malaysia. In Singapore, she has competed in Powerlifting as well as coached placing athletes under her belt. Charmaine's passion is to be able to help people achieve their goals in fitness through the understanding of their own minds and body, unlocking each individual's true potential.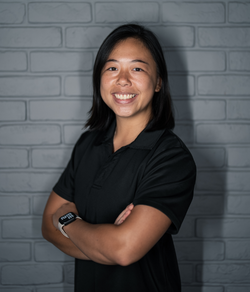 Yeon Chow
Team Trainer
Yeon is an ACE-certified personal trainer who is passionate about helping people reach their health and fitness goals.
She aims to help individuals incorporate an exercise routine that is best suited for their lifestyle, to achieve their goals sustainably.
She is a firm believer in using an evidence-based approach to stay healthy. Fitness comes in many forms for different people but to her, fitness is about feeling good daily and training properly to increase one's quality of life. She understands that individuals respond to lifestyle changes differently and she seeks to continually find a tailored approach for anyone to reach their desired goal.
"Physical activity is a lifelong journey and your progress starts when you go past your comfort zone."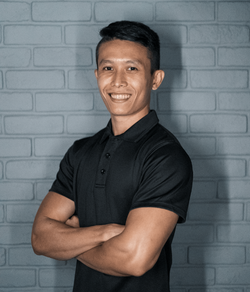 Nik
Team Trainer
Nik is an ACE Certified Personal Trainer who has also completed a Diploma in Sports and Exercise Science.
He has helped people from various backgrounds and fitness levels in his previous training experience. He always had individualized solutions and exercise modifications to enhance enjoyment, motivation, and adherence to training.
He is always looking out for the best interests of his clients because he believes that a person's quality of life is directly related to their physical and mental well-being. He wants to help them achieve their health and fitness goals so that they can lead happier, more fulfilling lives.
His motto is "Live to learn and help others."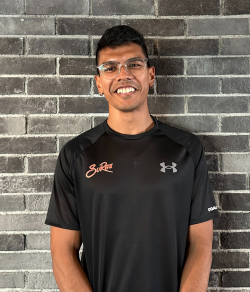 Dominic
Team Trainer
Dominic is an ACE-certified personal trainer with a unique background that allows him to bring a fresh perspective to your fitness journey.
For 8 years, he navigated his way through the world of shipping, working with people from all across the globe. However, health and fitness have always been his passion, and he felt a calling to make a more direct and profound impact on people's lives. A master at balancing a 9-to-5 job and upkeeping a healthy lifestyle, Dominic is eager to guide and support you on your path to a healthier and more fulfilling life. He believes that fitness is not just about physical exercise but also about cultivating a positive mindset and nurturing a balanced lifestyle.
He is dedicated to helping you overcome obstacles, surpass your limits, and embrace the transformative power of fitness."