PERSONAL TRAINING
Fit Pound
About Fit Pound
Fit Pound is a fitness company founded by a dedicated and professional personal trainer team ready and willing to coach you to your limit and help you become the person you always wanted to be. The only way is to work hard, and at Fit Pound, you will be encouraged to do this. Our motto is Pound to Fitness, simply punch through the wall, punch through your own negativity and self-doubt, and punch through to a better tomorrow. The only limit is you and your beliefs. We will provide the tools, the equipment, the coaches, you bring the willpower, and together, you and the Fit Pound team will succeed.
Working with Fit Pound is an excellent road to a healthier and stronger lifestyle. We offer intense workouts, including boxing, where you will learn how to throw a punch and look after yourself. We have the best personal trainers in town who are ready to help you smash your goals.
We at Fit Pound believe that we rise by lifting others, by elevating you to be the best version of you. Every day is a chance to make you stronger than yesterday, and we want you to take that chance. Being weak at Fit Pound is not an option. If you come here, you will achieve your goals. No holds barred.
Connect with Fit Pound on their website and Instagram.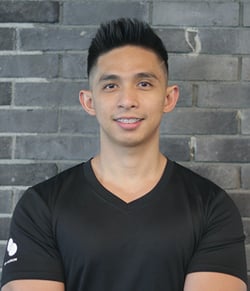 Jason Calina
Jason Calina is a dedicated and committed personal trainer who works with you all the way and always gets the job done. With over ten years of experience and working with hundreds of clients over the years, of all different shapes and sizes, he really knows how to motivate you to get you to your weight and fitness goals. You will feel at ease with him and see that he has your best interests at heart.
He will open up to you by relating his own personal experiences and struggles with fitness. However, he will explain how he conquered his daemons, and show you that if he can achieve his goal, so can you. You will feel equipped and capable of doing it, no matter what stage of your fitness journey you are at. The whole point is that it is not easy, but it is absolutely possible.
​Jason is exceptionally motivated to transform your life and make you fitter and healthier. This is his ambition, the reason why he wakes up in the morning. He wants you to share in the knowledge he has gained over the past ten years. You will find him 100% sincere, and for all his efforts, you will want to achieve for him. A perfect symbiosis.
Expertise:
• ​Strength & Conditioning
• Body Transformation
• Exercise Nutrition