The 12-Week '2021' Challenge For The Ultimate Physical & Mental Transformation
If you plan on ushering in the New Year with a resolution to get fit, achieve long-lasting results and learn a new skill (or all of the above), look no further because here's the perfect
opportunity for you.

To help kickstart your new year with a bang, Personal Trainer and Strength & Conditioning Coach, Gwaeron Grift and professional MMA fighter, Royston Wee, are joining forces to deliver the ultimate physical and mental transformational package!

Read on for more details.
About the challenge
The 12-Week challenge is an intensive program designed to kickstart your journey to a long-lasting and sustainable health and fitness transformation for 2021 and beyond.
Over the course of the 12-week challenge starting on Monday 1 February, 2021 , you'll receive:
x4 60-min Strength Conditioning training and Boxing / Muay Thai sessions per week in a small group setting at the Core Collective Dempsey gym

Individual goal setting session

Progress check-ins for tracking of measurements and photos

Regular nutrition and lifestyle workshops throughout the challenge

Daily lifestyle, nutrition and fitness support from the trainers
What you'll get out of it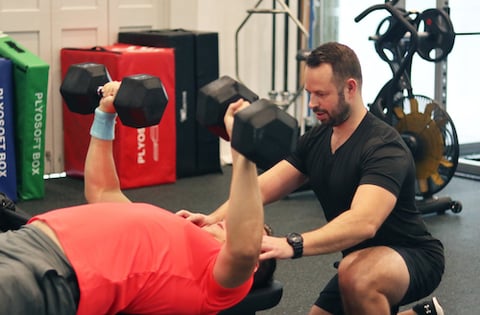 Not only will you be joining the welcoming community at Core Collective, but you'll be training with some of the top trainers in the industry.
The focus of this challenge is to deliver long-lasting and sustainable results to last you throughout 2021 and far beyond.
Each week, you'll have two Strength and Conditioning sessions with Gwaeron and two Boxing/Muay Thai classes with Royston. During the Strength Classes, training will be tailored to your unique goals, with an emphasis on good technique and building strength.
The Boxing / Muay Thai classes with Royston will focus on developing techniques to build both physical and mental agility while strengthening your striking combat skills.
Throughout the duration of the challenge, you'll be supported with daily check ins from your coaches, and regular workshops to gain a better understanding of how to improve your nutrition and lifestyle in order to maximise and achieve sustainable results.
About the Trainers
The challenge is run by both Gwaeron Grift (Core Collective Resident PT and Strength & Conditioning Coach) and Royston Wee (Professional MMA Fighter, Singapore's first and only
UFC Fighter).
Gwaeron Grift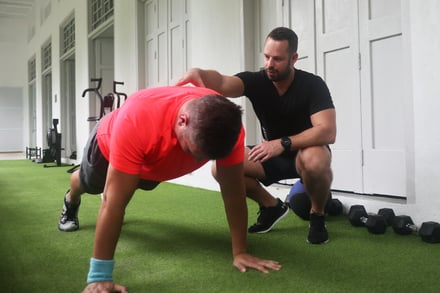 Gwaeron specialises in body transformation and sports performance. His individualised and intelligently designed programs take into account each client's unique goals and lifestyle. Gwaeron's 360 approach goes well beyond training time at the gym; providing clients with round-the-clock advice and support on everything they need to reach their goals.
Over the past 15 years, he has helped numerous clients in Singapore, Australia, China and the Netherlands to get real and long-lasting results. He is passionate about healthy living and helping people look and feel better through a holistic approach to nutrition and exercise.
Gwaeron has helped hundreds of clients lose weight and maintain it sustainably, build muscle mass, get stronger, feel better and educate themselves about their health. In
addition, he offers strength training programs to complement sports performance goals, coaching semi-professional and professional-level athletes across a variety of sports.
His own journey in fitness and training began at a young age, while competing in several sports, he graduated with a Bachelor of Sports Studies (Hanze University of Applied
Sciences, Netherlands), and holds multiple qualifications in, strength and conditioning, body composition, nutrition, rehabilitation, Olympic Weightlifting, sports performance and behavioural change. He continuously invests in his professional development and is mentored by several industry leaders.
Royston Wee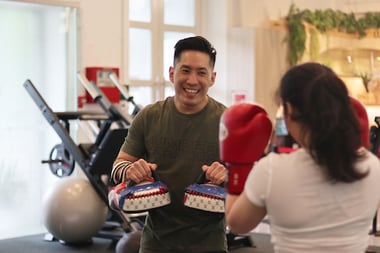 Royston Wee is a professional MMA fighter who made history by becoming the first and only Singaporean who fought in the most prestigious MMA promotion in the world, the Ultimate Fighting Championship (UFC). He is a dedicated martial artist who is constantly honing his skills as a fighter and a coach. Starting off in 2008, he is now a well-rounded fighter who has over 13 years experience in combat sports (Muay Thai, Boxing, Kickboxing, Wrestling, Brazilian Jiu-Jitsu and MMA).
Other than being a fighter himself, Royston has coached and cornered professional and amateur level fighters in various well-known organisations. Being a coach, Royston believes the importance of enjoying the journey of learning and development in the mental and physical aspects in order to achieve results. Using his vast experiences, Royston loves to explain concepts, analyse, and fine-tune techniques.
Along the way, he's trained people from all walks of life. Royston is able to clearly communicate instructions and explanations based on his experiences to beginners and fighters of all levels. From professional/amateur fighters to dedicated martial artists, fitness enthusiasts, as well as weekend warriors.
With Royston, you'll be able to train smart, improve your combat agility, apply proper techniques, gain self-confidence, build strength, improve cardio and endurance, lose weight and most importantly, have fun!
A detailed breakdown of what's included in this 12-week package:
Start date: Monday, 1 February 2021

Individual goal setting session

x24 60-min strength & conditioning training sessions (x2 per week, small group)

x24 60-min Boxing/Muay Thai training sessions (x2 per week, small group)

Progress tracking through measurements, and photos

Nutrition and lifestyle workshops

Daily lifestyle, nutrition and exercise support from the trainers via a community group

1-1 WhatsApp and email support
---
This package is limited to 30 participants only on a first-come-first-serve basis, so sign up fast!
---
Featured Contributors: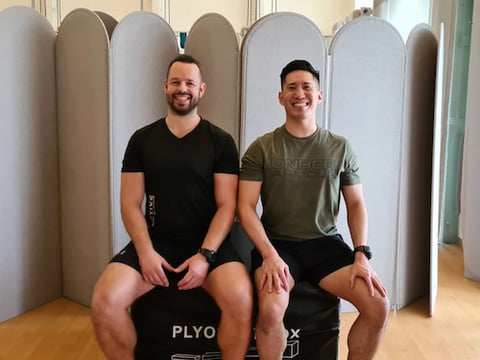 specialises in Body Transformations and Sports Performance. His individual and intelligently designed programmes take into account each client's unique goals and lifestyle.
is a professional MMA fighter who made history by becoming the first and only Singaporean who fought in the most prestigious MMA promotion in the world, the Ultimate Fighting Championship (UFC)