PERSONAL TRAINING
Thrive Fitness
About Thrive Fitness
Connect with Thrive Fitness on their website and Instagram.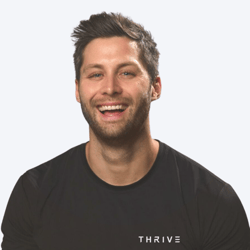 Matt Benfell
Matt is the founder of Thrive and a coach here in Singapore. Matt began his career 12 years ago teaching group Pilates and Strength Training. Starting in London he has since worked in Sydney and for the past 7 years, Singapore.
During this time Matt has coached an array of clients and learnt from some of the best minds in the industry.
Matt's passion has always been in the health and fitness space. His thirst for knowledge sees him continually upskilling through courses, seminars and mentorships.
As he has progressed in his career he has moved into helping people with their body composition. In particular, helping clients approach their goals in a sustainable manner.
In a sea of rapid transformation gyms, Matt decided to be the change he wanted to see and as a result, Thrive was born.
Qualifications & Certifications:
Premier Advanced Personal Trainer Diploma (Premier Global NASM)
Gymnastic Bodies, Level 1
6-week Program Design Mentorship (Kilo Strength Society)
Advanced Considerations in Diet and Training (Renaissance Periodization)
Strength Training for Fat Loss (Nick Tumminello)
Muscle Mechanics (Eugene Teo)
Muscle Nerds, Level 1
N1 education (Anatomy, Execution & Biomechanics)
Jeff Alberts, Coaching (3DMJ)
Precision Nutrition Level 1, The Essentials of Sport and Exercise Nutrition
ACE Health Coach (Ongoing)
Nottingham Trent University (Bachelor of Arts (B.A.) Graphic Design)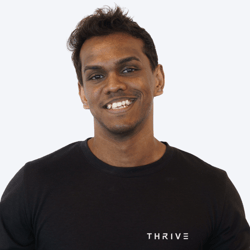 John Suriya
Over the past 8 years John has worked with a variety of clients each with their own goals and circumstances. Everyone from amateur athletes, expectant mothers to tech executives and medical professionals.
"The road to achieving the best mental and physical state comes from 4 principles":
1. Managing work and life stressors
2. Gradual and workable changes to current habits
3. Structured strength training
4. Sustainable nutrition
With an impeccable eye for detail, John places a strong emphasis on exercise techniques.
As an experienced coach, he knows when to push and when to back off. Rest assured you can expect to be put through your paces.
If there is one thing you had to say about John it is that he has a fantastic work ethic. If he's not on the gym floor, you can find him upskilling himself through courses and seminars.
To that end, John believes in fostering long-term habits to help his clients Thrive in their own lives.
Qualifications & Certifications:
American Council on Exercise Certified Personal Trainer (ACE)
Anatomy, Execution & Biomechanics for Trainers (N1 Education)
Kettlebells Level 1 & 2 (FIT Asia)
Prenatal and Postpartum Coaching (EL Coaching)
Basic Sports Massage (International Sports Academy)
Advance Sports Massage (FysioTouch)
Corrective Exercise Specialization (The BioMechanics Method)
Master REHAB Trainer (Rehab Trainer)
Precision Nutrition Level 1
B.Soc.Sci (National University of Singapore)
MSc (University of Oxford)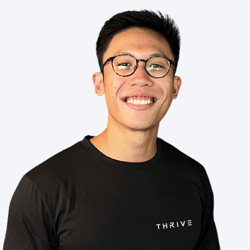 Kwok Kah Onn
Kah Onn is Thrive's resident nutritionist, holding a Bachelor's Degree in Food Science. A self-proclaimed nerd, Kah Onn has a strong background in food science and research.
Through evidence-led approaches, he helps his clients navigate the confusing world of nutrition. He believes in sustainable changes and helping clients live healthier and happier lives.
In his spare time, Kah Onn runs healthy ageing and sustainable eating programs for clients.
"Ageing is a privilege and not a curse". Kah Onn believes that healthy ageing is achievable for everyone.
Kah Onn's goal is to educate on sustainable health, training and lifestyle approaches. Alongside that, he strives to inspire others to live their best lives, today.
Kah Onn also has experience participating in, coaching and handling powerlifting meets. So you can be sure you're in good hands in the gym!
Qualifications & Certifications:
National Council on Strength and Fitness (NCSF) Certified Personal Trainer
National University of Singapore
Bachelor's Degree with Honours in Science, Food Science and Technology, Valedictorian
Monash University, Nutrigenetics & Food As Medicine
Mediterranean Agronomic Institute of Zaragoza, Agribusiness and Agricultural practices.