WELLNESS
Rehab & Beyond
Physiotherapist, Clinical Pilates Instructor & Dietitian
About Rehab & Beyond
Find out more about Rehab & Beyond on their website, Facebook and Instagram.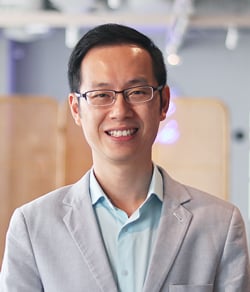 Jaden Lim
Jaden is an AHPC Registered Physiotherapist as well as an ACSM Certified Cancer Exercise Trainer and Clinical Exercise Physiologist, holding a Master's degree from Australia.
With more than a decade of experience working in public hospital, sports teams and private settings, he specializes in sports injury management, post-surgery physiotherapy, and rehabilitation for people with medical conditions such as stroke and Parkinson's disease.
Jaden is passionate about providing physiotherapy treatment that is backed by science and research. Besides presenting his own award-winning research papers in local and international conferences, he also conducts workshops on back/neck pain and teaches topics such as the management of shoulder, hip, knee & ankle injuries.
Jaden believes that "people do not care how much you know until they know how much you care". He strives to understand his clients' needs, goals and priorities before selecting the most appropriate treatment approach. For his dedication and professionalism, he has earned many positive reviews as well as three Service Excellence Awards in as many years.
Jaden is the founder and Principal Physiotherapist at Rehab & Beyond Pte Ltd.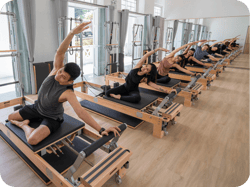 Joanne Chong
Joanne graduated from the University of Canberra with a degree in Sports Administration and worked in Singapore Sports Council.

Feeling the benefits of Pilates, Joanne pursued Pilates certification under Stott Pilates and Smart Movement. Today, she marries the best of both contemporary and classical pilates to create programs for post-acute conditions to restore, realign and rebuild the body.
Like the name of the company, Pilates goes beyond rehabilitation. It has enduring benefits to the mind and body due to the deep-rooted principles of breathing, centring and control.
Subsequently, the communication changes and Joanne teaches to develop internal power. She uses phrases like "Powerhouse, stretch, strength and control", to help you visualise the movement and channel your internal power. This is done through the philosophy of Contrology and by teaching the original pilates repertoire.
Joanne will guide you to master the 34 Mat
exercises using pilates apparatus to help you get there.

Major Certifications:
Smart Movement Asia Original Pilates Intermediate
Stott Pilates Injuries and Special Population & Level 1 Mat & Reformer
2018 Stott Pilates Advanced and Full Certification
EBFA Barefoot Training Advanced Level
EBFA Neurosensory Certification
Centre of Women's Fitness – Pre and Post Natal
Scolio-Pilates Level 2
Cancer Exercise, Cancer Exercise Training Institute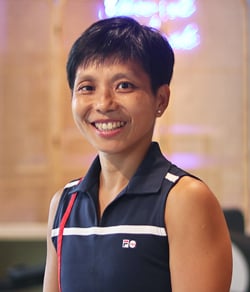 Patsy Soh
Patsy Soh is a NZ Registered Dietitian with a BSc in Human Nutrition from the University of Otago, New Zealand, a Postgraduate Diploma in Dietetics, an MSc in Human Nutrition and 15 years of experience.
She started working in Changi General Hospital (CGH) and quickly gained clinical experience in seeing patients with diabetes, high cholesterol, gout, kidney disease, the elderly and weight management. After working for 5+ years in an acute hospital, Patsy moved on to the corporate world to work for Nestlé, one of the largest food manufacturers in the world. She worked with various departments in Nestle to help attain the Healthier Choice Symbol (HCS) for their products and also trained all staff in health and nutrition. Subsequently, she returned to the clinical field of nutrition, but this time it was to conduct research on preemies (pre-term babies). It was upon the conclusion of the research study that Patsy decided to stay at home, due to the growing needs of her 3 kids (including a pair of twins).
As a dietitian, Patsy believes being fit and healthy is a holistic experience, hence nutrition, physical activity and emotional well-being have to go hand in hand. To this end, Patsy completed a FISAF (Federation of International Sports, Aerobics and Fitness) course to be a Personal Trainer. This would better equip her to give exercise prescriptions in addition to dietary advice. She especially loves helping parents get back their fitness and back to healthy body weight.
Patsy works amongst Rehab & Beyond's team of therapists to help others achieve their weight loss/maintenance goals through practical nutrition and exercise prescriptions.
You can also learn more about their Nutrition & Dietetics services by clicking here to enquire.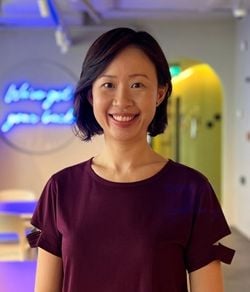 Linn Choo
Linn's Pilates journey began in Hong Kong as a pre-natal client. Shortly after the birth of her child, she started to rehabilitate for childbirth-related conditions.
She experienced physical weakness and pain due to structural misalignments and a poor physical state post-childbirth. Under the guidance of a women's health physiotherapist, she re-discovered her powerhouse through Clinical Pilates.
As Pilates emphasizes having proper core activation and developing a mind-body connection, it has been especially useful for new mothers like herself. She has found the Pilates method to be ideal for rehabilitation as it is gentle and effective.
From feeling fatigued and having muscular pain on a daily basis to being pain-free and being able to handle her active child well, she is grateful for the transformative experience.
Realising how beneficial Pilates could be for one's health and well-being, she decided to delve deeper into the method.
Today, Linn has grown stronger and "taller" through the Pilates method and strength training. She believes that everyone can take control of their health and improve their quality of life through movement. She will guide you on your journey to better health and fitness through Pilates.

Certifications & Training:
STOTT PILATES® instructor - Certified Level 1 Mat, Reformer, Cadillac, Chair and Barrel
The Movement Academy - Rehabilitative Pilates
EBFA Neurosensory Specialist Certification
Scolio-Pilates - Module 1
Bachelor Degree in Business Management (Cum Laude)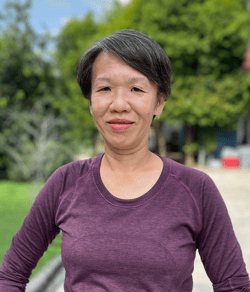 Flora Yee
Flora is first a secondary school choir instructor and then a Pilates instructor. She has been teaching school choirs since 1996 and participating in regular national and international choir competitions and events with them.
Due to stressful work practice, she used to fall sick frequently. When she started taking up body-mind-soul classes like stretching, pilates, and yoga in 2009, she felt herself becoming healthier and more able to cope with work-related stress. Subsequently, her lifestyle became more balanced.
Flora began to find pilates very interesting and challenging as there were many modifications and possibilities available for different clientele. There was also more to pilates than just mat exercises – she realized that the principles of Pilates were also applicable to help her choir students sing better.
Eventually, Flora decided to take up an instructor course to deepen her own knowledge of the subject. With the certification, opportunities to teach and cover Pilates classes became available. Such opportunities exposed her to different types of clients and their needs, helping to better her knowledge of Pilates and at the same time, increasing her desire to learn more.
Areas of Expertise:
Pilates for Special populations ( injuries, pain, recovery)
Pilates matwork
Pilates for Mobility and Flexibility
Working with Singers, Teenage Choristers, and Musicians (core control, posture and alignment, and joint mobility)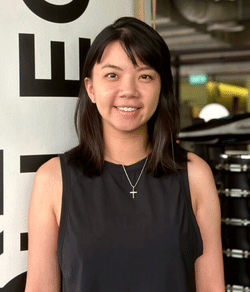 Cheryl Ng
Being a competitive bowler in her teenage years, Cheryl suffered from years of discomfort and chronic back pains and was diagnosed with scoliosis.
Her relative, who was also her physiotherapist, suggested Pilates as a way to alter the imbalances in her body. That was 2009, when Pilates was less popular and less accessible. Her journey only began in 2010 when she went to Australia for university studies.
As a young adult who had just returned to Singapore from university, she dove into building a corporate career and didn't continue with her practice. The postures used in the corporate setting led to more aches and pains in her neck, shoulders, and back. She managed it with painkillers but the voice of Pilates kept calling her back. Feeling frustrated, she thought "Enough is enough!" and returned to Pilates. After 2 years of consistent disciplined practice, she began her education with master trainer Kevin Bowen of Core Dynamics Pilates and was certified to teach in December 2020.
Cheryl continued her education with Ole Eugenio of Smart Movement Asia where she learnt the origins of the Pilates system and the essence of each exercise. The revelation of the "powerhouse" and "lift" helped her appreciate the principles of Pilates when executing each move.

Major Certifications:
Core Dynamics - Comprehensive Pilates Teacher Training Program
Smart Movement Asia - Original Mat, Reformer, Chair, Cadillac, Barrels
The Center for Women's Fitness - Pre and Postnatal Pilates Specialist™
The Center Method for Diastasis Recti Recovery Specialist™
EBFA - Neurosensory Specialist