WELLNESS
Rehab & Beyond
Physiotherapist & Dietitian
About Rehab & Beyond
Find out more about Rehab & Beyond on their website, Facebook and Instagram.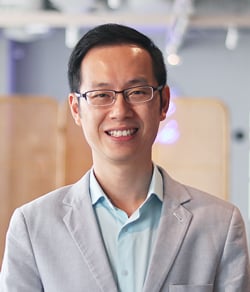 Jaden Lim
Jaden is an AHPC Registered Physiotherapist as well as an ACSM Certified Cancer Exercise Trainer and Clinical Exercise Physiologist, holding a Master's degree from Australia.
With more than a decade of experience working in public hospital, sports teams and private settings, he specializes in sports injury management, post-surgery physiotherapy, and rehabilitation for people with medical conditions such as stroke and Parkinson's disease.
Jaden is passionate about providing physiotherapy treatment that is backed by science and research. Besides presenting his own award-winning research papers in local and international conferences, he also conducts workshops on back/neck pain and teaches topics such as the management of shoulder, hip, knee & ankle injuries.
Jaden believes that "people do not care how much you know until they know how much you care". He strives to understand his clients' needs, goals and priorities before selecting the most appropriate treatment approach. For his dedication and professionalism, he has earned many positive reviews as well as three Service Excellence Awards in as many years.
Jaden is the founder and Principal Physiotherapist at Rehab & Beyond Pte Ltd.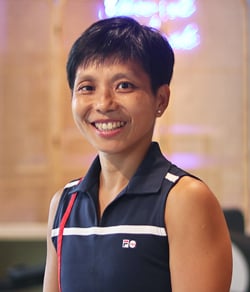 Patsy Soh
Patsy Soh is a NZ Registered Dietitian with a BSc in Human Nutrition from University of Otago, New Zealand, a Postgraduate Diploma in Dietetics, an MSc in Human Nutrition and 15 years of experience.
She started working in Changi General Hospital (CGH) and quickly gained clinical experience in seeing patients with diabetes, high cholesterol, gout, kidney disease, the elderly and weight management. After working for 5+ years in an acute hospital, Patsy moved on to the corporate world to work for Nestlé, one of the largest food manufacturers in the world. She worked with various departments in Nestle to help attain the Healthier Choice Symbol (HCS) for their products and also trained all staff in health and nutrition. Subsequently, she returned to the clinical field of nutrition, but this time it was to conduct research in preemies (pre-term babies). It was upon conclusion of the research study that Patsy decided to stay at home, due to the growing needs of her 3 kids (including a pair of twins).
As a dietitian, Patsy believes being fit and healthy is a holistic experience, hence nutrition, physical activity and emotional well-being has to go hand in hand. To this end, Patsy completed a FISAF (Federation of International Sports, Aerobics and Fitness) course to be a Personal Trainer. This would better equip her to give exercise prescription in addition to dietary advice. She especially loves helping parents get back their fitness and back to healthy body weight.
Patsy works amongst Rehab & Beyond's team of therapists to help others achieve their weight loss/maintenance goals through practical nutrition and exercise prescriptions.