WELLNESS
Milestone Physiotherapy
About Milestone
Milestone Physiotherapy commits to helping clients achieve their wellness and fitness goals one step at a time. They specialise in return to sports post-surgery and post-injury, sports performance, strength and conditioning, and management of acute and chronic musculoskeletal conditions.
Connect with Milestone on their website, Facebook, and Instagram.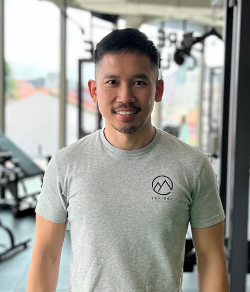 Goh Chun Kiat
Founder
Chun Kiat has been a Ministry of Health Allied Health Professional Council licensed physiotherapist since 2012. He developed an interest in physiotherapy after seeing a physiotherapist for his torn meniscus during his National Service. He subsequently pursued physiotherapy studies after being awarded the Singapore Health Services Health Science Scholarship and graduated with a Bachelor of Physiotherapy from the University of South Australia.

Before starting Milestone Physiotherapy in 2022, Chun Kiat worked at the largest public health cluster from 2012 to 2018 at both their acute hospital with specialists, and their tertiary primary care polyclinics alongside general practitioner, assessing and treating acute and chronic peripheral and spinal musculoskeletal conditions, nerve conditions, sports injuries, and chronic pain. He also spent nearly five years in another private clinic group before setting up Milestone Physiotherapy.

After seeing patients suffer from chronic non-specific pain, Chun Kiat developed a special interest in the neuroscience basis behind chronic pain. He spends his free time keeping up with the latest research, focusing on pain sciences and tendon rehabilitation. He likes to learn about the different movement patterns required in various kinds of sporting and functional activities to help his clients achieve their functional goals as soon as possible in the rehabilitation programme.

With more than 10 years of experience as a sports and musculoskeletal physiotherapist, Chun Kiat has managed clients across a wide demographic and spectrum, which helps understand the different needs of various age groups and occupations. He has professional working experience with professional martial arts practitioners, lifters, rowers, and dancers, among other types of sportsmen and sportswomen. He also works regularly with clients suffering from vestibular dysfunction that affects their daily activities and sports. He uses techniques like manual therapy, dry needling, shockwave, and targeted exercises to correct his clients' movement issues and manage their pain.

In his spare time, you can find Chun Kiat lifting at the gym, or sharpening his Brazilian Jiujitsu at The Gentle Art Academy, while working on his Master of Sports Medicine with the University of Melbourne.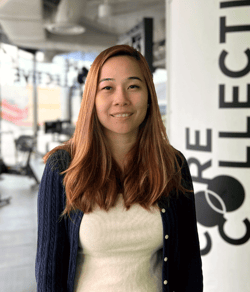 Tay Jia Zhi
Jia Zhi obtained her Bachelor of Science (Honours) in Physiotherapy from Trinity College Dublin and started her professional career at Tan Tock Seng Hospital in 2012. She has worked in all the various clinical teams before, specialising in treating patients with musculoskeletal injuries and chronic pain. After five years, she came out to the private sector and has worked in two different clinics, with one being a Pilates-focused physiotherapy clinic. While there, she developed a strong interest in teaching Pilates to assist in rehabilitation. Being Polestar Pilates rehabilitation trained, she often incorporates Pilates exercises into her treatment session to help her patients achieve a stronger and pain-free body.
With more than 10 years of experience working with different types of patients ranging from adolescents to the elderly and from high-performance to recreational athletes, Jia Zhi realised that they often present with movement and breathing dysfunctions that they are not aware of. Being an ex-competitive netball player herself, she also completely understands that no matter how minor an injury is, it will affect one's performance during a game and increase the chances of re-injury if not properly rehabilitated. As such, Jia Zhi strongly believes in building mind and body awareness along with postural control and breathing patterns in her patients, perfectly incorporating her understanding of physiotherapy with Pilates.
In her spare time, she finds joy in her Pilates practice, spending time with animals, and seeing different parts of the world through travel.