WELLNESS
Levitise - Holistic Lifestyle Centre
About Levitise
Many people achieve career success but then, one day, wake up with poor health. Maybe you're fatigued, not sleeping well, gaining weight, and just don't have the energy to do something about it. You feel stressed and anxious about your future health and are afraid of being a burden on your kids. Health begins by building in time to take care of you, little by little each week.
At Levitise, they believe that working on the root causes of health is key. Unlike working with multiple trainers, doctors, and other specialists who can't see the big picture with regard to your overall health, Levitise presents a truly holistic, one-stop-shop, solution that creates permanent health.

With a combination of personal training, corrective exercise, lifestyle and executive coaching, and a little help from our infrared sauna, they help you relieve stress, achieve a zen-like mind, boost your energy, get in shape and start sleeping like a baby.
Connect with Levitise on their Website, LinkedIn, Instagram, Facebook, and YouTube.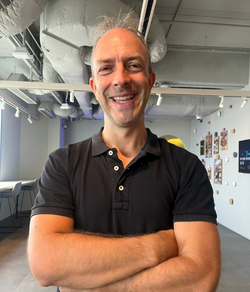 Alex
Holistic Health Practitioner & Founder of Levitise
After 20 years in the finance industry, Alex left the corporate world in late 2017 to start Levitise. After successfully curing himself of high cholesterol, high blood pressure, pre-diabetes, and dropping 13kg in the process he realised that Singapore was severely lacking in a truly holistic and integrative solution to address our common lifestyle complaints. So he founded Levitise to fill that void.
Alex is passionate about all things health and fitness related and specialises in helping people with fatigue, hormone imbalances, sleep disorders, stress and anxiety, weight management, and other more complicated and serious diseases.
Alex is a certified CHEK Holistic Lifestyle Coach and Functional Medical Diagnostic Practitioner.
Elise
Senior Personal Trainer
Elise spent several years as a humanitarian NGO worker in a number of fascinating locations such as Pakistan, Thailand, and DR Congo. After a few scares, she decided that a safer career might be in order!
Deeply passionate about helping people improve their lives, and reuniting with her passion for exercise, she took up personal training courses at prestigious schools such as the National Academy for Sports Medicine and the CHEK Institute.
Elise is a perfectionist who always searches for the ideal solution to help clients with neck, shoulder, and back pain, injury rehabilitation, strength and conditioning, digestive issues, and weight management.
Elise is a NASM-certified Personal Trainer, CHEK Exercise Coach, and CHEK Certified Holistic Lifestyle Coach.
Shiwani Gurwara
Holistic Lifestyle Coach
Shiwani joined Levitise as a Holistic Lifestyle Coach and is the perfect fit as she understands exactly the kind of people Levitise love working with. Shiwani has a rich background working in
international organisations in senior positions, managing her own business, and looking after her own family.
Since leaving the corporate world, Shiwani has become a successful Lifestyle Coach specialising in working with senior executives to manage stress and anxiety, boost energy, and weight loss and achieve mental peace.
Shiwani is a Certified Empowerment Coach (International Coaching Federation), a Certified Cognitive Behavioural Practitioner from the Achology Academy of Modern Applied Psychology and is currently studying Nutrition and Lifestyle Management.