WELLNESS
Inside Out Pilates and Fitness
Pilates Instructor, Gyrotonic Instructor & Reiki Master Practitioner
About Inside Out Pilates and Fitness
At Inside Out Pilates and Fitness, we are passionate about helping people achieve their fitness goals. We believe in holistic well-being and combine disciplines to achieve the best results for each and every individual.
Using the best combination of disciplines for each and every person – whether that be Pilates, Weights, TRX, Gyrotonic or Reiki, we work with the complete person, not just the 'physical shell'.
Every 'body' is different, everyone leads a unique life, and we work together with you to establish what is genuinely manageable to help you reach your goals. We are here to keep you accountable, to give you the motivation that you need and to partner with you in your fitness journey.
Your complete well-being is our mission, and using the disciplines of Pilates, Fitness and Reiki Healing, we empower you to live your best life and be the best version of yourself – Inside and Out.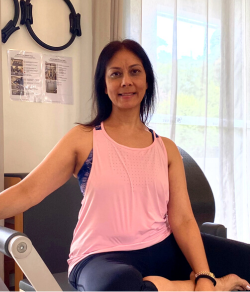 Ishra Giblett
Founder, Lead Instructor
Ishra's love of Pilates began during her early years as a dancer. She trained at the Laban Centre for Movement and Dance in London, England, where she combined daily dance classes with Pilates exercises.
Many years later, Ishra gave up professional dancing and moved to Singapore. It was only after giving birth to her second child that she began to suffer from severe back pain. This led her full circle back to Pilates, where dedication and daily practice helped resolve her back issues, increase strength and fitness, and increase flexibility. She also practices Yin Pilates to help destress and relax tight aching muscles. The powerful nature of Pilates is something she is passionate about sharing with everyone.
Ishra is also a mental health advocate and has seen many people suffer in silence in today's frenetic world. She uses Reiki Healing to help people de-stress, reconnect on a deeper level, and empower them to live their best life.
Ishra aims to give you the best possible workout that your body needs, combining disciplines and looking at the whole person, not just the 'physical shell'. She believes in delivering real results and changing lives.
Certifications
Polestar Pilates Comprehensive Studio Certified
PMA (Pilates Method Alliance) Certified Instructor
Women's Health Specialist – The Centre for Women's Fitness
Myofascial Release Techniques – The Centre for Women's
Stick Mobility – Steve Stahl
Oov Mat and Equipment Certified – Daniel Vladeta
Yin Pilates Master Trainer
Reiki Master and Teacher
Gyrotonic ® Expansion Method Level I and II Certified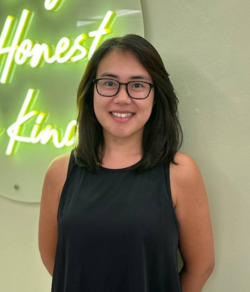 Fiona Ho
Fiona has been teaching Pilates for seven years and counting. She is a busy mum of two young boys, and during her years of practice, Pilates was an amazing source of respite for her body and mind.
Pilates helped her to move pain-free and gave her confidence while rehabilitating her back, keeping her strong and supple during her two pregnancies. Post-natal Pilates also benefitted Fiona, relieving her from aches and pains while caring for and playing with the boys.
Having left a corporate HR job for 8 years prior to teaching, Fiona still enjoys meeting people from all walks of life - and being able to directly impact bodies and lives brings her joy in my work. She believes everyone should "be in control of your body and not at its mercy" (Joseph Pilates).
Certifications
Polestar Pilates Education – Comprehensive Studio Certified
Pre/Postnatal Pilates Specialist Program (The Centre for Women's Fitness)
Oov Fundamental, Level 1 and Apparatus Certified
TRX Suspension Training
Dual Zone Myofascial Release (Functional Training Institute)
Barefoot Training Specialist® (EBFA)
Anatomy Trains in Motion
The International Franklin Method - Fascia for the Lower Back Training