About Eat Right
Eat Right Nutrition Consultancy was founded in 2010 by Mr Derrick Ong, Accredited Practising Dietitian (Australia) and Accredited Dietitian of Singapore. He is passionate about sharing evidence-based nutrition knowledge to empower individuals to make decisions for their health and fitness goals.
Eat Right's clients and patients include C-level individuals, corporate employees in the public and private sector and beneficiaries of social service agencies.
Their values are:
Integrity & Innovation
Evidence-based nutrition
Prevention is better than cure
Valued Partnerships & Collaborations
Sustainable & Quality Services
Their services include:
Dietitian Consultations for weight management and medical conditions, Anthropometric (body composition) Assessment & Nutrigenomics Testing.
Nutrition Consultancy for Delicious yet Healthy Recipe Creations, Menu Analysis, Workplace Health Talks & Specialised Workshops.
Find out more about Eat Right on their website, Facebook and Instagram.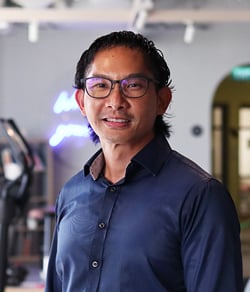 Derrick Ong
Derrick is the Principal Dietitian and Founder of Eat Right Nutrition Consultancy.
His Professional Qualifications include:
Bachelor of Nutrition & Dietetics (Hons) from Deakin University, Australia.
Graduate Diploma in Sports Nutrition from the International Olympic Committee (IOC).
Bachelor of Arts, Government & Economics (Magna cum Laude) from Cornell University, USA.
Derrick provides consultation to patients with Chronic Diseases, Weight Management and Maternal Nutrition challenges and advises those wishing to adopt a healthier diet.
He also conducts Sports Nutrition Consultations and Anthropometric (body composition) Assessment and is an advocate of Nutrigenomics Testing to provide a personalised approach to Nutrition Coaching.
Derrick is also a Key Opinion Leader in nutrition and an educator at heart.
He is a prolific speaker for Nutrition Talks, Workshops and Conferences and is often featured on The Straits Times, CNA, Channel 5, Suria, Vasantham and 938 LIVE.