No Time to Cook? Here Are 5 Healthy Food Delivery Services Our Personal Trainers Love
We've heard it a million times before; diet is just as important as exercise in achieving our health and fitness goals.
If cooking or meal-prepping at home isn't an option for you because you struggle to find time to cook amidst your busy schedule or enjoy variety in your meals, these 5 healthy food delivery services are your saving grace.
Plus, you'll be glad to know that some of Core Collective's very own personal trainers are frequent eaters of these delivery service meals - so you know they've got to be good!
1. Lean Bento
Lean Bento prepares and delivers bento meals made with wholesome ingredients and honest cooking. It was conceptualised by founder and director Charles Ng out of his frustration at the lack of flavourful, yet healthful, nutritionally bang-for-buck option for the man on the street, like himself. He began "wet market" grocery shopping and cooking from a very young age and had since understood the value of good quality ingredients and earnest cooking methods is one of the surest ways to encourage sustainable health. As an obese child turned fitness advocate, Charles designed all of Lean Bento's recipes to centre around a leaner balance of macronutrients, without the use of artificial flavour enhancers, use of highly-processed fat, carbohydrates and sugars.
Price range: $9.90 for a filling petite chicken bento to $16.50 for a premium salmon bento, $4.90 for protein desserts
Pick up: 1 Irving Place, #03-01 The Commerze @ Irving, Singapore 369546
Delivery areas: Islandwide at a flat rate of $10 for each unique order
Get 15% off Lean Bento's À La Carte collection* when you order and enter promo code LEANCORE at the checkout. Promo valid until 30 September 2020.
*Except Seasonal Specials and Multiple Location Delivery Bundles.
---
2. Fresher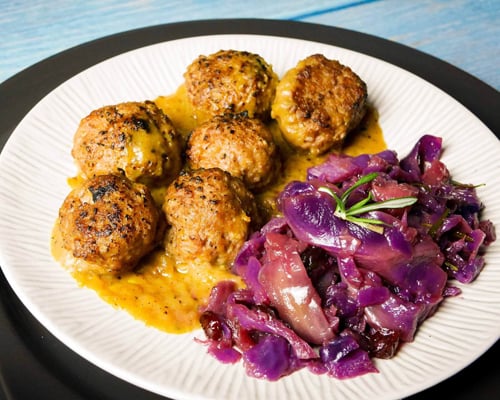 Fresher is a leading, sustainable health food company with recipes designed for anyone from health-conscious families to pro athletes. Their menu includes a variety of meals belonging to different dietary categories from high-carb and fibre-rich to keto-friendly.
Fresher works to embody efficiency into our cooking and food so that you get to enjoy sustainable prices while making healthier dining choices in your everyday life. Through blast freezing methods where recipes are brought to a negative temperature immediately upon cooking, recipes stay fresh for 3-4 months with its nutrition and 100% natural integrity locked in - meaning you can get meals bulk-delivered to your home while cutting down on carbon emissions by at least 1/7 of regular deliveries.
Price range: from $10.90
Delivery areas: Islandwide on weekends and weekdays between 7.00 – 11.00am and 7.00 – 11.00pm
Get 10% OFF your first order at Fresher when you order and enter the code CORECO at the checkout. Promo valid until 31st August 2020.
---
3. FITTHREE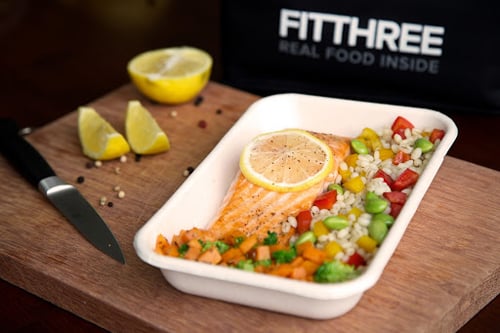 FITTHREE delivers healthy meals to your doorstep, chilled, so you can conveniently store them in the fridge, heat them up and devour them when you're ready to eat.
Got specific goals or dietary restrictions? FITTHREE provides a variety of different meals including Omnitarian (high in protein and complex carbs), Low Carb (high protein with plenty of vegetables for added fiber), and Vegetarian plant-based meals. And if you're trying to cut down on meats, they allow you to mix meaty meal plans with vegetarian meals - you've got complete control over your meals.
Whether you need 3, 5 or 10 meals, there is no lock-in period or long-term commitment when ordering from FITTHREE. Just order what you need for when you need it.
Price range: $13.40 - $15.90 per meal
Pick up: Collect your meals for free at selected gyms including Core Collective
Delivery areas: Islandwide at a flat rate of $3.50 per delivery
---
4. Yummy Bros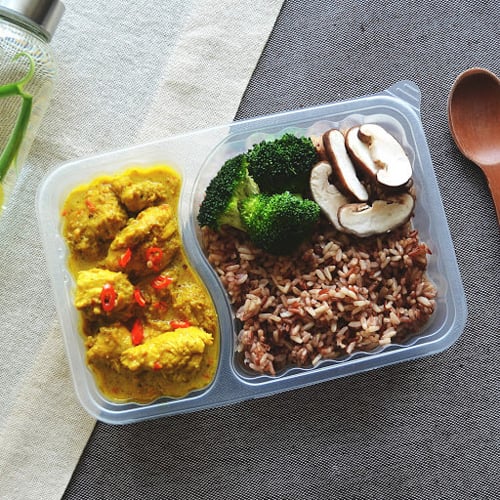 Yummy Bros makes dieting an enjoyable process for active people, fitness enthusiasts, and athletes by reinventing popular Asian dishes loved by millions around the world. They're made healthier and their nutritional information is made transparent while maintaining their flavourful nature.
Yummy Brothers & Sisters have the exclusive luxury of building their own meals by customizing their carb source, veggies, and portion sizes without being tied down to monthly subscription meal plans. Customized calorie-counts and macros are labeled on all of our customers' meals so anyone can fit their dietary preferences and requirements into their meals.
Not sure what to order? Try out their customer favourites: Yummy Thai Fish, Yummy Curry Chicken, Yummy Kopi Chicken, and Spicy Chicken Lemak.
Price range: starts at $6.50 per meal
Delivery areas: Islandwide for as low as $3
Get 8% off all first-time customer orders when you enter CORECOLLECTIVEAUG20 at the check out from now till 20 August 2020. Terms and conditions apply.
---
5. YOLO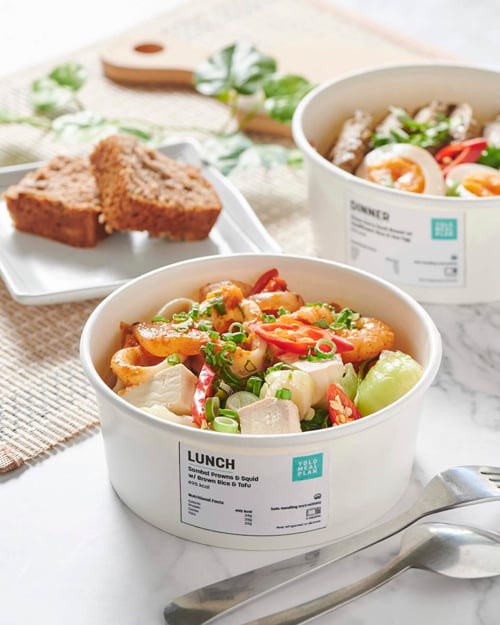 YOLO is a healthy food concept that focuses on delicious asian food made healthy. With YOLO, you can enjoy a large variety of tasty meals from chicken rice, Gong Bao Chicken to curry. Their foods are certified by an in-house nutritionist to change the way you experience healthy eating.
YOLO offers three services. YOLO Food with fast and fresh meals from their restaurants, YOLO Meal Plan which delivers food to your home or office, and YOLO Mart with restaurant quality at home, cooked sous-vide and vacuum-packed foods - just heat and eat! They have vegetarian, vegan, and gluten-free options and are also halal certified.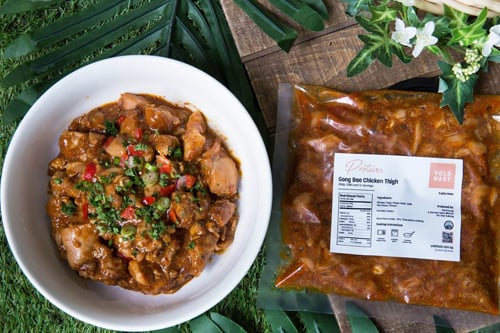 Price range: YOLO restaurants: $8-$14, YOLO Meal Plan, from $15-30 per day (depending on how long your commitment is), YOLO Mart, from $3.50 per item
Pick up: restaurants are at Icon Village (walking distance from Core Collective Anson) and Ocean Financial Center
Delivery areas: Islandwide
Get 15% off your order when you enter the code CC15OFF at the checkout.
---
Core Collective is building centres of excellence where the top fitness and wellness professionals collaborate to deliver the best services and results for our customers, all under one roof.
Subscribe to our newsletter to stay updated with more articles like this one, as well as Core Collective's upcoming fitness & wellness events and promotions.