PERSONAL TRAINING
Total Transformation Lab
About Total Transformation Lab
TOTAL TRANSFORMATION LAB specialises in sustainable body and lifestyle transformations for long-lasting and dramatic results to your health, body and mind.
Their transformation philosophy not only entails a body transformation through exercise, but is a way to help their clients improve their nutrition, lifestyles and mindsets. With exercise, their attention gears towards a tailored, structured and progressive programme that caters to satisfy the goals and requirements that you, the client, have created for yourselves for your body transformation.
Next, they look to teach you about what good nutrition is whilst breaking the preconceived notions people have made. Total Transformation reminds you that you do not need to stop eating, or implement crazy dietary restrictions in order to get the physique you want. They are here to help you implement proper and well balanced nutritional strategies instead with healthy and delicious foods to keep you smiling on.
The third part of their philosophy follows one's mindset. It is crucial to build a healthy mindset as it aids you in being more confident and motivated to achieve the goals you set for yourselves. When exercising, they believe that you must remember that your mind has a large impact on us and so, if it's able to stay strong, your bodies will follow and adapt.
Last but certainly not least, there is lifestyle. At Total Transformation, they want their clients feeling amazing on the inside and looking great on the outside. Thus they are there to help their clients by teaching them and guiding them to implement vital lifestyle habits to push them in the right direction.
Their number one priority is your happiness and wellbeing. They want what's best for their clients and try their hardest to not only guide them through a physical transformation, but also a mental and lifestyle one as well. They want to ensure these are sustainable body and lifestyle transformations that are long-lasting and show dramatic results to your health, body, and mind.
Connect with Total Transformation Lab on Facebook and Instagram.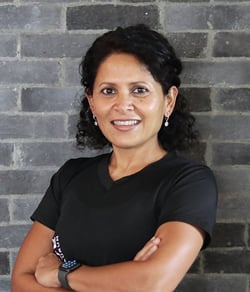 Afshan Thakkar