WELLNESS
The Gong Ashtangi
About The Gong Ashtangi
The Gong Ashtangi is the brain child of Sound Therapist / Yoga Teacher Azmi Samdjaga. Its mission is to intertwine both the magical healing potential of Sound & Vibration into the wonderful practice of Yoga.
Connect with The Gong Ashtangi on their website, Facebook and Instagram.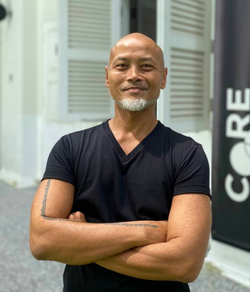 Azmi Samdjaga
Azmi Samdjaga is a Singaporean Malay born in the early 70s to Muslim parents who were both descendants from Indonesia. He graduated with a Diploma of Architectural Technology from Singapore Polytechnic but soon realized that was not his path.
In 2005, Azmi graduated from AI Holistic School with a Diploma in Ashtanga Yoga Instruction after returning from his training in Mysore, India. That was where he studied the Ashtanga method under the late Shri K Patthabi Jois (from 2004), his grandson Sharath Rangaswamy (from 2015) and recently with Saraswati in 2016.
Azmi has been a full-fledged yoga teacher since 2005. To extend his holistic knowledge, he has gone through an extensive course of learning Advanced Massage and Anatomy from the Esalen Institute of Big Sur in which he studied Shiatsu, Swedish, Balinese, and Thai massage. He found those training had brought him deeper towards the understanding of the human body in relation to yoga practice.