PERSONAL TRAINING
The Athletic Collective
About The Athletic Collective
The Athletic Collective is a 1-1 and group-based strength and conditioning company. Their vision is to improve the availability of strength and conditioning support in Singapore for clients who have athletic and sporting goals. They help build the physical qualities necessary to get you better at your chosen activity or sport.
At The Athletic Collective, they prioritise quality coaching standards, personalised program design with a high-quality service. Through this tried and tested method, they are able to help you achieve your athletic goals, progressing you onto a higher level of performance and quality of life.
The Athletic Collective uses a fitness testing protocol to help people understand their physical strengths and weaknesses. They assess three aspects of your fitness: strength, mobility and cardio. Their highly trained coaches analyse your results and help explain them to you in simple terms, providing you with a direction for your fitness journey. Your combined testing results will produce a scorecard where you will be able to compare the progression of your fitness journey.
If you want to run a faster 5k, drive the golf ball further or play a full game of tennis without picking up an injury then the Athletic Collective is the ideal match for you!
If you need a place to start, take action and come and visit them at The Athletic Collective.
Connect with The Athletic Collective via their website, Instagram, Facebook, or email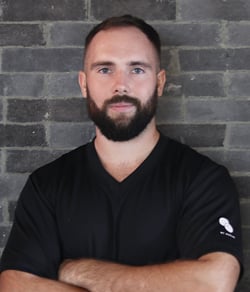 Robbie MacGregor
Robbie is a trainer with more than 10 years of experience in the fitness industry. An ex-rugby player with a Masters in Economics, he spent years working as a financial analyst before returning to his true passion of coaching and personal training.
He has a vast background in training, from working with professional athletes, child development, weight loss clients or just 'normal' people who want to feel happier and healthier. His goal is to help you smartly and sustainably.
Training with Robbie, he encourages no fad diets, no crash weight loss and no unsustainable practices. Everything is driven at improving your quality of life for years to come - not just the next eight to twelve weeks.
In 2019 Robbie ran several marathons and ultramarathons including the Marathon Des Sables, the hardest footrace in the world. Since then, he has helped several clients complete their first half and full marathons, triathlons and other exciting events.
Reach out to Robbie if you would like to lose weight, improve your running, or make sustainable changes towards your health and future.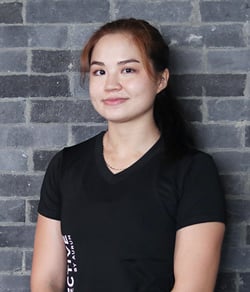 Victoria Tymosiewicz
Victoria is a Personal Trainer who is ready to assist you in building your healthiest, strongest and most confident self. Victoria previously worked as a coach and manager at F45, where she gained valuable experience and developed a passion for the industry, alongside this, she coached a number of personal training clients privately. To fully pursue her passion of being a Strength & Conditioning Coach, she knew she needed to broaden her experiences which led her to join The Athletic Collective.
Victoria believes in training efficiently, focusing on technique while building muscle towards increased functionality. Other than helping clients get physically strong, she looks beyond that by working on your mindset, motivation and lifestyle balance, such as sleep and stress management which is often overlooked. Victoria understands it is crucial for each individual to have a tailored training approach, as we all respond to training in a different way. Her goal is to have the most positive impact that she can on the lives of the people that she works with: supporting them to become the happiest and healthiest version of themselves!
Besides training regularly herself, she has undergone Strongman training where she flipped heavy tyres and carried the heavy yoke walk. Victoria enjoys heading to a CrossFit box where she participated in the 2021 Crossfit Open Games. During her spare time, she has Victoria enjoys hobbies such as cycling and especially cooking, where she is trying to improve presentation-wise.
Qualifications:
ACE Certified Personal Trainer Course
ACE Fitness Nutrition Specialist Course
CPR/AED & First aid certified
Working towards NSCA Certified Strength & Conditioning Specialist & Pre/Post Natal
Course