About Straits Physio
Straits Physio was founded with the intention of bringing the latest and most advanced research based physiotherapy practice to Singapore.
Our unique skill set, diagnostic and therapeutic approaches set us apart from the competition and offer a truly bespoke rehabilitation experience.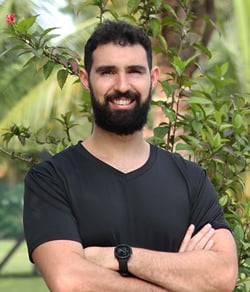 Kieron Philips
After graduating with a first-class (Hons) degree in physiotherapy from Manchester Metropolitan University, Kieron worked for the National Health Service before moving to Singapore in 2014. Before founding Straits Physio, Kieron worked in public and private practice settings gaining experience treating a wide spectrum of musculoskeletal disorders.
Kieron is co-chair of the Singapore Physiotherapy Associations Musculoskeletal special interest group as well as a member of the Chartered Society of Physiotherapy in the UK and a regular content contributor for anatomy-physiotherapy.com.
Kieron holds an Msc in musculoskeletal sciences from University College London and is currently involved in international research efforts to improve sporting and functional outcomes following rotator cuff injury and surgery.
His professional interests are musculoskeletal physiotherapy with a focus on tendon and muscular recovery post-injury, application of transitional research to clinical practice and objective clinical testing and outcome measures.
Having attended several training courses conducted by world leaders in physiotherapy and musculoskeletal medicine, he takes a holistic approach to helping his patients return to their chosen activities as soon as possible.
Connect with Kieron on his LinkedIn.