PERSONAL TRAINING, DANCE
SPACECUBOID
Personal Trainer & ContempFIT Instructor
About SPACECUBOID
SPACECUBOID was founded by Aiden Tan (a Contemporary Dancer and American Council on Exercise Personal Trainer) and has been actively involved in the online coaching space, bringing smiles to both individuals and corporations.
SPACECUBOID's mission is to drive the Health and Fitness space through innovative collaborations and designing unique and exciting Fitness Dance programs for its clients.
Its vision is to bridge dance (contemporary dance, ballet, and other movement-related genres) and fitness by combining knowledge and skills relevant to achieving greater body control and wellness.
SPACECUBOID believes in driving human confidence, mental strength, and physical potential and has since conducted a myriad of Dance & Fitness classes, including Zumba, KpopX, iENERGY, Mat Pilates, Yoga, HIIT, Ballet, Contemporary Dance, Chinese Dance, Hip-hop, and more!
The company was honourably featured in LianHe Zaobao on 30 May 2020. As of 1 Jan 2022, it has worked with more than 20 organizations, conducted more than 90 classes, engaged over 2800 participants, and still growing!
Connect with SPACECUBOID on their website, Instagram, and Facebook.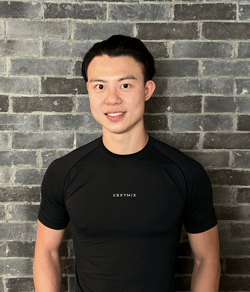 Aiden Tan
Aiden Tan is a local arts practitioner and a passionate dance and fitness coach. He enjoys interacting with and training clients of different diverse backgrounds. To Aiden, coaching is a lifetime calling as he always finds immense satisfaction whenever he manages to help his clients achieve their desired goals. In Aiden's mind, no goals are unachievable and he is constantly searching for new ways to make class fun & exciting! With many years of experience in the dance & fitness scene under his belt, he is currently coaching at various studios and dance academies offering a full range of classes, including Ballet Workout, HIIT, iENERGY, iPARTY, Contemporary Dance, ContempFIT, and Acrobatics. He has experience working with clients from age 6 to 60 years old and with Special Needs.
Aiden is the founder of SpaceCuboid, a company that constructs highly effective workout classes by combining dance & fitness elements. The company was featured in LianHe ZaoBao and have worked with more than 2500 fitness enthusiast! He is also a recipient of the National Arts Council Scholarship for his Bachelor of Fine Arts in Dance at Taipei National University of the Arts and a certified Personal Trainer with the American Council on Exercise (ACE).
Aiden is trained in various movement forms, including Ballet, Contemporary Dance, and Eastern techniques such as Taichi, Martial Art, Chinese Opera, Chinese Folk Dance, etc. With his extensive background and experiences, Aiden constantly draws inspiration from different forms when he designs his classes and hopes to share his discovery by helping clients attain their innate physical and mental potential.