BEAUTY & AESTHETICS
SMP Singapore
Scalp Micropigmentation (SMP) & Paramedical Tattoo Artist
About SMP Singapore
SMP Singapore is founded by Erica Lee, a pointillism art enthusiast that finds her life purpose in helping people with hair loss to regain their confidence. At SMP Singapore, their mission is to create a Realistic, Undetectable, Safe and Long-lasting Hair Loss Solution for customers.
In fact, they are the first and only practice in Singapore to specialize in this treatment using the mature American SMP (Scalp Micropigmentation) technique which has been around for over 20 years now. SMP is a painless procedure, no downtime is required, and the amazing result will last 2-5 years on your scalp. It is also 100% customisable based on the client's need, and results can be seen instantly, even in the first session (3 sessions are required by each person on average).
Are you struggling with genetic male/female pattern balding? Get in touch today to find out they we can help.
Connect with SMP Singapore on their website and Instagram, and Facebook.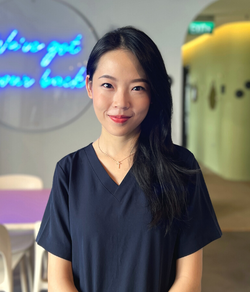 Erica Lee
Erica is the founder of SMP Singapore and also a Scalp Micropigmentation specialist. Also known as SMP, this technique aims to improve the lives of those who are suffering from hair loss issues due to many reasons, such as genetic hair loss, male/female balding, scaring etc.
This technique offers visual enhancement to anyone that needs or simply desires for. Erica takes pride in helping people regain their confidence and self-esteem as she believes that visual improvement does not only help individuals to improve on their physical image but also brings emotional healing to them.
SMP uses a form of art rather than science to create the illusion of having denser hair, lower hairline or correction of scar tissue that no longer can allow hair growth. This is achieved by depositing micro-sized pigment that mimics our natural hair follicles.
The pigment used for the procedure is 100% vegan and fully customizable according to the skin tone and hair colour of the client. This procedure is 100% effective, and clients are able to see visible results from the first session.