PERSONAL TRAINING
SeriesFitness
Personal Trainer & Strength & Conditioning Instructor
About SeriesFitness
The Seriesfitness Group provides fitness services (personal training, group classes, corporate classes) for clients and educational workshops for trainers.
They are passionate about creating fitness programs that energise, repair, and strengthen the body, using conscious movement patterns. Their programs and approach to fitness are based on science, not hype. Their Founder and Master Trainer Esteban Merchan created a series of American Council on Exercise (ACE) accredited programs that help clients focus on developing cardiovascular fitness, strength, functional mobility, and agility.
The team behind SeriesFitness understand the challenges clients face embarking on and staying on their fitness journey. They, therefore, believe in coaching, not instructing. Their trainers are not just certified, they have a passion for fitness and hope to inspire clients to push their limits.
They believe in building strong partnerships with our clients to design personalised programs suited to their lifestyles, and to achieve their fitness goals. Give us your commitment, and we will give you results.
Connect with Seriesfitness on their website, Facebook or Instagram.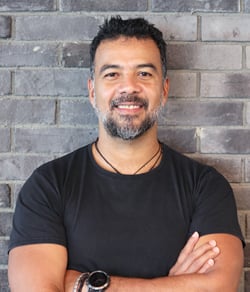 Esteban Merchan
Esteban is from Colombia and has over 18 years of experience in the international fitness industry. He was most recently a Managing Director at Oompf Fitness in Singapore, having previously taught at California Fitness (Vietnam) and Pure Fitness (Singapore) amongst others. He holds a Bachelor's Degree as a Fitness Specialist and is an Education Leader for TRAINFITNESS in South America.
Esteban is a certified instructor for Kettlebells, TRX, Spinning, Step, and Pilates. He is a former Les Mills national presenter and trainer of trainers for BODYATTACK™. He is also a licensed instructor for BODYPUMP™, RPM™, GRIT™, CXWORX™, BODYSTEP™, and BODYBALANCE™/BODYFLOW™. He is a Master Trainer for REHAB EXPRESS.
Esteban is the creator of SeriesTabata training accredited by the American Council on Exercise (ACE). After training clients for 18 years, he noticed that many are misinformed about what they are actually trying to achieve in their training sessions. He realized he could create a series of programs that intelligently combined those concepts most important for a workout. These programs are based on science, use timing effectively to benefit both clients and coaches and have options for everyone regardless of age or fitness level.
Esteban's experience and knowledge are highly recognized and admired in the fitness industry. He always strives for the best and is constantly innovating and keeping up to date with any new fitness developments.
Bego Hualde
Bego is from Spain and has been living and working overseas for the past 20 years. With previous careers in hotel management and human resources, Bego has always been a fitness enthusiast. She embarked on her fitness career five years ago becoming a certified Zumba instructor and then a personal trainer. She was most recently Fitness Coach at Oompf Fitness.
She is a member of ZIN™ (Zumba Instructor Network) and a certified Instructor for ZUMBA FITNESS™, STRONG BY ZUMBA™, ZUMBA TONING™, ZUMBA KIDS™, & ZUMBA KIDS JR™. She was selected to represent Singapore on the stage at the ZUMBA Convention Japan in 2018.
A Personal Trainer certified by American Council on Exercise (ACE), Bego is qualified to teach a variety of classes such as HIIT, TRX, and Series Cardio™ and Series Strength™. She holds a current CPR and AED Certification.
Bego is an amateur bikini fitness athlete having competed in the Show of Strength Philippines and the Olympia Amateur Japan, both in 2019. She is a mother of three girls with a great passion for fitness. Her high energy and enthusiasm are contagious, encouraging her clients to keep improving and levelling it up in a safe manner. Bego always strives for the best outcomes, providing tailored and comprehensive programs for her clients.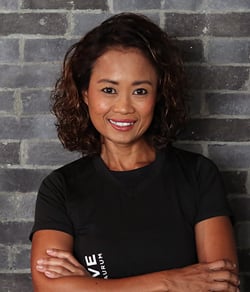 Nooryani
Yani is an avid Kettlebell Sports enthusiast, Coach and athlete. Yani is a certified FISAF Personal Trainer. She is also a certified IKFSA Kettlebell Coach Level 1, Strong Gorilla Kettlebell Instructor Level 1, Senior Bootcamp & Mentoring Instructor, Senior EMS Licensed Trainer, Series-Core Flow Instructor and TRX Rip Trainer. Yani holds a Diploma in Sports & Exercise Science.
Yani gained a lot of weight in her late 30s and lost self-confidence. This spurred her to start a gym routine and engage a personal trainer. Yani drastically reduced her weight by the age of 40. Feeling more confident with her results, Yani pursued a journey as a Personal Trainer and started competing in Kettlebell Sports and won the World League Pendekar Kettlebell Competition 2018. She also won Best Fitness Role Model in 2019 under Singapore Fitness Model Search 2019.
Throughout her 7 years of experience, Yani has worked with women who find it hard to adapt to new fitness habits. She aims to change people's views on fitness so that it becomes a part of who they are and their lifestyle. She strongly believes that by practising healthy habits, her clients will be able to obtain a healthy lifestyle and towards a better version of themselves.
You can also click here to book a Les Mills group fitness class with Esteban.