WELLNESS
Rapha Physiotherapy
About Rapha Physiotherapy
Rapha in Hebrew means "to restore", "to make healthful", "to make whole".
This is also Rapha Physiotherapy's commitment to you.
Rapha empowers you with healthful, better living to celebrate winning moments in your life through Physiotherapy. Rapha believes that no one should be slowed down in life and be kept away from your goals due to roadblocks such as aches or pains. Let Rapha turn these roadblocks into stepping stones to success and journey with you to attain your goals and fulfil your dreams.
Celebrate Life with Rapha.
Connect with Rapha Physiotherapy on their website, Instagram and Facebook.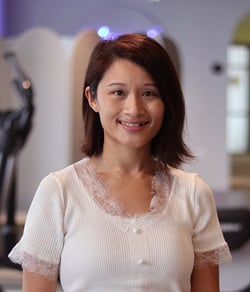 Avalyn Heng
Avalyn has been working in the restructured hospital setting for more than 10 years. From attending to patients in the intensive care unit to getting patients back on their feet after suffering a stroke, Avalyn treats a variety of conditions ranging from Parkinson's to Geriatric falls and Musculoskeletal injuries.
In 2014, she was awarded a scholarship to pursue Master's Degree in the USA. Since then, she developed a strong interest in vestibular rehabilitation, working with clients with dizziness and concussion. She was selected to be in the medical team for Team Singapore competing at the 8th ASEAN Paragames in 2015. Working with elite athletes at the national level, she developed a keen interest in working with stroke survivors who are motivated to return to running.
She is also an educator who mentors therapists and coach them on their journey to attain full registration with the licensing board. Her passion for teaching goes beyond the borders and she has been to Laos and Sri Lanka on teaching trips organized by Singhealth and Singapore International Foundation.
When asked why she decided to leave the public service after the various achievements attained, Avalyn replied that she would like to give back to the community by creating a model of care where physiotherapy is easily accessible so that timely treatment can be provided and clients can improve quickly. This is further enhanced by close collaboration with their physicians.