PERSONAL TRAINING, GROUP FITNESS CLASSES, WELLNESS
Pilates Body Pilot
Pilates Sports Conditioning/Rehab, Holistic Lifestyle & Nutrition Practitioner
About Pilates Body Pilot
Pilates Body Pilot is a holistic health and fitness company that promotes a healthier lifestyle and improved fitness with Pilates as its core form of exercises. With an integrated approach that centres on the client's unique characteristics, the practitioner first assesses each client's state of mind and body before customising the classes.
To maximise effectiveness of each session, Pilates Body Pilot adheres strictly to small classes, giving the practitioner the platform to ensure that students are gaining optimum benefits of the programme. Additionally, they offer behavioural-based nutrition coaching and lifestyle changes in diet and exercise to ensure that the client's fitness and health goals are effectively met.
The company also specialises in post-rehabilitation and corrective exercises and works closely with osteopaths and orthopaedic consultants to provide post diagnosis and post-surgery care. Sports enthusiasts or serious athletes like golfers, runners and cyclists also benefit with the sports conditioning programmes that not only improve overall performance, but also reduce the chances of injury through sports.
Find out more about Pilates Body Pilot on their website, Facebook, Instagram and YouTube.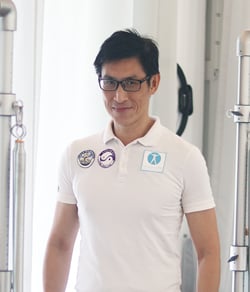 Christopher Nicholas Chua
Christopher has been in the fitness industry for close to two decades. Starting out as Personal Trainer in a gym was just not how he envisioned health and wellness to be. So he went on a holistic health journey and trained with Paul Chek (founder of the C.H.E.K Institute in California) in the areas of Core Stabilization, Functional Strength, Nutrition and Lifestyle Assessment. Key Expertise: Pilates, ​weight loss, nutrition coaching, wellness, sleep issues, pre/post-natal, post rehab, sports injury, mobility and running.