Wellness
NutraNourish
Certified Functional Medicine Practitioner
About Nutra Nourish
Nutra Nourish promotes healthy living, peak performance and individual care through their range of services:
Diabetes programme
Nutritional therapy
Their approach is personalised to each individual and is backed by scientific research.
Functional Medicine (FM) addresses the underlying causes of disease, and addresses as a whole person; not just an isolated set of symptoms. FM practitioners spend time with their patients, listening to their history and looking at the interactions among genetic, nutrition, environmental, and lifestyle factors that can influence long-term health and complex, chronic disease. It involves cutting edge functional testing fog gut microbiome, hormonal imbalances, micronutrient deficiencies etc. In this way, FM supports the unique expression of health and vitality for each individual.
Connect with Nutra Nourish on their website, Instagram, YouTube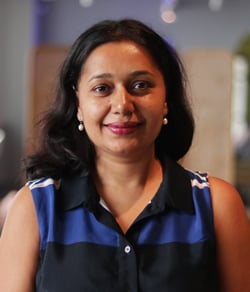 Dr Menka Gupta
Dr Menka is the first (only) Institute for Functional Medicine Certified practitioner (IFMCP) in Singapore. She has helped many in achieving optimal wellness and in issues related to Stress, Insomnia, Digestive disorders, Fatigue, Weight Loss, Hormonal issues, Thyroid, PCOS, Diabetes, Cholesterol, Autoimmunity, Psoriasis, Rheumatoid arthritis, Nutrigenomics, Eczema, ADHD, Autism etc. She has more than 19 years of experience in the health and medical field. She completed her Master's degree in Personalised Nutrition in the UK and has trained in Functional Medicine since 2012 from the esteemed Institute for Functional Medicine in the US, where her teachers are Dr. Mark Hyman and the Father of Functional Medicine, Dr.Jeffrey Bland. She is the only practitioner in Singapore who has finished all the modules in Functional Medicine from Institute for Functional Medicine, US. She is a member of Royal Society of Medicine (RSM) & British Society of ecological medicine (BSEM).
Dr Menka's background is as a Medical Doctor. She has worked in leading hospitals in London, Singapore and India in the field of General Medicine, Gastroeneterology and Gynaecology. As an NLP practitioner, she engages with her clients in a therapeutic partnership and coaches them towards optimum health and well-being. Her unique combination of qualifications and knowledge makes her Functional medicine programs complete and successful.
Her qualifications include:
Institute for Functional Medicine certified practitioner (IFMCP)
MSc Personalised Nutritional therapy (CNELM, Middlesex University, UK)
Functional Medicine Graduate since 2012 (IFM, US)
MBBS, MRCOG Part 1 (UK)
Corporate Wellness Consultant Certification (US)
Neuro-linguistic Practitioner (NLP) Certification (UK)
Member of IFM, BANT, GMC, MCI, RSM, BSEM
Certified DNA life (Nutrigenomics) practitioner
Completed Functional Medicine Advanced Practice Modules in:
Applying Functional Medicine in Clinical Practice 2012
Cardiometabolic Advanced Practice Module
Detox Advanced Practice Module
Energy Advanced Practice Module
Gastrointestinal Advanced Practice Module
Hormone Advanced Practice Module
Immune Advanced Practice Module
Autoimmunity- Annual International Conference
Paediatric- Advanced Clinical Training
At NutraNourish, Dr Menka provides Functional medicine consultations to find out the root cause of your health issues and make a functional program with Personalised Nutritional Therapy, Functional testing, Supplements, environmental & lifestyle strategies. She examines micronutrient deficiencies, hormonal imbalances, food sensitivities, gut microbiome and genetic predisposition to uncover the underlying cause of the disease. She leverages this knowledge with her training and experience to create personalised functional and nutritional programs unique to your biochemistry. She provides you with tools that support you on your journey towards vitality and prevention of chronic health diseases.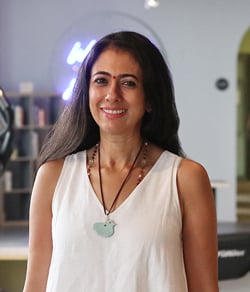 Dr Deepika Rawlley Gopalan
Dr Deepika Rawlley Gopalan holds a PhD in Genetics and is a Functional Medicine Certified Health Coach (FMCHC) and Mindfulness practitioner. She is specialized in mind-body medicine, behaviour change, functional nutrition, nutrigenomics as well as DNA testing. She uses positive psychology, motivational interviewing and a value/character strengths-based approach in co-creating wellness for her clients who are children, adults as well as corporates.
In Dr Deepika's words, "My goal at Nutra Nourish, is to walk alongside you as you pay attention and discover for yourself, how making personalized step-by-step lifestyle changes in the 'Five Pillars of Health' - nutrition, movement, sleep and relaxation, stress management, finding meaning and purpose in a community, can impact your overall health in mind, body and spirit, at any stage of life. I will share with you, the latest Science- backed functional medicine tools and resources- help educate, guide, support and encourage you to use them, while you figure out what works for you and what doesn't. I will be your accountability partner as you commit to making realistic goals for yourself, helping you measure the impact of these changes. So that over time, you profoundly transform your health toward a sense of lasting wellbeing, come what may."
Dr Deepika supports clients with:
Goal Setting
Understanding "food as energy, medicine, information, connection"
Weight loss
Detox
Immunity
Exercise and movement functional tips
Tools for sleep and relaxation
Creating Energy (mitochondrial health)
Mindfulness Based Stress Reduction
Mindfulness in daily life: a values and strength-based transformative practice