GROUP FITNESS CLASSES
IKO Kyokushinkaikan Singapore
About IKO Kyokushinkaikan Singapore
IKO Kyokushinkaikan Singapore is a direct affiliate of the International Karate Organization Kyokushinkaikan.
Through the principles and philosophies of Japanese budo martial arts, We are committed to providing quality physical and mental wellness education to the public.
Connect with IKO Kyokushinkaikan Singapore on Instagram and Facebook.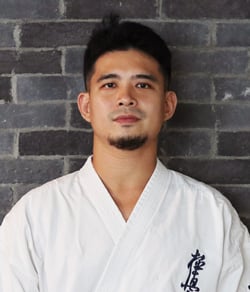 Alex Ang

Alex has been practising martial arts for the last 15 years. His passion for this discipline led him to Moscow, Melbourne, Tokyo and Europe to learn from various sources while pursuing the path of a professional martial artist.
Retiring from his competitive career in 2017 at the World Championship, Alex decided to embark on the path of teaching and planned on giving back to his society based on the values acquired from years of Martial Arts cultivation. He is appointed and certified by Kyokushin Karate Headquarters and holds the official license to teach and educate this form of art to the general public.
Alex's teaching style focuses on the physical and mental wellness of his participants. Moving mobility and meditation exercises and techniques will be employed to help participants improve their overall quality of life through a sustainable and active lifestyle.