WELLNESS
Elevate Physiotherapy
About Elevate Physiotherapy
Elevate Physiotherapy is a physiotherapy service provider in Singapore. People from all walks of life choose Elevate Physiotherapy to help them stay mobile and achieve their life goals. Be it to run a marathon, win a competitive sporting event, or simply be able to carry their children, their clients know that they can be counted on. Their clients look to Elevate Physiotherapy in providing a solution to the underlying cause of their condition as the best way to prevent recurrences.
In addition to their physiotherapy service, they provide home-based therapy, talks, workshops, and corporate workplace health consultancy work. Due to their belief that prevention is better than cure, their treatments are complemented by Clinical Pilates. These are customised programs aimed at individuals who have various musculoskeletal conditions or to prevent said conditions in the first place. In addition to that, they work with a powerlifting gym in preventing injuries and conditioning their clients for competition.
Connect with Elevate Physiotherapy on their website, Facebook and Instagram.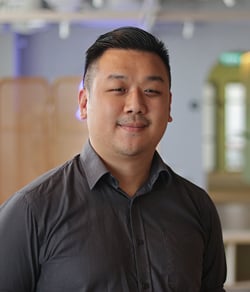 Winsen Citra
Always being fascinated with the human body and anatomy since his teenage years, Winsen pursued a degree in Physiotherapy at University of Melbourne, Australia.
Upon Graduation, Winsen began working at Singapore General Hospital (SGH) where he found his passion in musculoskeletal physiotherapy. Through his work there, he had opportunities to be part of the medical team in the Standard Chartered Marathon. During his time in SGH, he was also involved in competitive dragon boating where he began to develop an interest in working with competitive athletes with their injuries and conditioning.
Winsen specialised in sports and musculoskeletal physiotherapy in Pain Relief Practice and Physioclinic. In 2017, Winsen began working with Elevate 360. He works with the trainers in the gym to create the best plan for their clients in order to prevent injuries or get back to full physical activity after an injury.
In his spare time, Winsen sings with the Singapore Symphony Chorus and plays chess. ​