WELLNESS
CLARIE Psychotherapy
Counsellor, Psychotherapist
About CLARIE Psychotherapy
CLARIE Psychotherapy offers counselling and psychotherapy services to individuals, couples and families to move forward from surviving to thriving.
They address a range of topics on but not limited to, stress and burnout, mental health, grief and loss, childhood trauma and relationship issues, and also on coping with major life transitions, including relocation, transnational marriage, difficult pregnancies and parenthood challenges.
They also support businesses towards building psychological safety at the workplace through employee assistance programmes, staff counselling and coaching, as well as curated interactive workshops for improved team communication and working relationships.
They provide sessions online, in-centre at Core Collective locations and in-nature (Walk & Talk Therapy). They are an LGBTQ+ affirmative practice.
Connect with CLARIE Psychotherapy on their Website, LinkedIn, Instagram, and Facebook.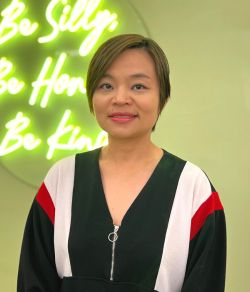 Corrine Lin
Counsellor & Psychotherapist
Passionate about helping individuals gain inner clarity towards empowered choices and change, Corrine enjoys working with adult individuals, couples and their families, on a whole range of topics including but not restricted to stress and burnout, mental health, pregnancies and parenthood challenges, adverse childhood experiences, relationship issues, trauma recovery, loss and grief healing, sexuality, interpersonal issues, finding meaning and purpose in life, and also on coping major life transitions including relocation and transnational marriage.
She believes that therapy is a process of uncovering, recovering and discovering of self and that everyone has the capacity to change and heal. She applies trauma-informed and multicultural awareness in sessions through integrated therapy approaches. However, more importantly, she values the importance of building effective relationships with clients in their therapy journey first by offering a safe and non-judgmental space to co-create solutions collaboratively.
Qualifications & Credentials
Master of Counselling (Advanced)
Swinburne University of Technology, Australia
(CBT-trained) Advanced Training in Cognitive Behavioural Interventions
Swinburne University of Technology, Australia
Certified Transactional Analysis Practitioner (TAP)
USATAA
Psychological First Aid Certificate
The John Hopkins University, 2021
Applied Suicide Intervention Skills Training (ASIST)
Social Service Institute (SSI), NCSS, 2020
Practical Counselling Certificate
Academy of Human Development, Singapore, 2016
Internal Family Systems: Step­-by-­Step Procedures for Healing Traumatic Wounds and Alleviating Anxiety, Depression, Trauma, Addiction and More, PESI, Inc (May 2023)
Bachelor of Commerce in Marketing and Management
Murdoch University, Australia
Diploma in Marine Engineering
Singapore Polytechnic
Membership
Full Member – Transactional Analysis Association (TAA) Singapore
Provisional Clinical Member – Singapore Association of Counselling (SAC)
Approaches
Person-centered, trauma-informed, mindfulness-based
Internal Family Systems (IFS-informed)
Cognitive-Behavioural Therapy
Transactional Analysis
Redecision Therapy