PERSONAL TRAINING
Cindy Roberts Fitness
Personal Trainer, Muaythai Kru Coach, Nutritionist
About Cindy Roberts Fitness
Cindy Roberts Fitness specialises in empowering women with evidence-based nutrition, Muaythai and strength training. They work towards setting women free from fad diets, based on the philosophy of teaching women to eat cake while they lose weight as well as learning to move well in Muaythai and strength training.
Get your first pushup, execute a strong kick, or learn to clean and jerk!
Services offered:
Nutrition Coaching
Muaythai
Fat loss
PCOS
Pre-Post Natal
Muscle Building
Olympic lifts
Strength Training
Connect with Cindy Roberts Fitness on their website, Instagram, Facebook, and LinkedIn.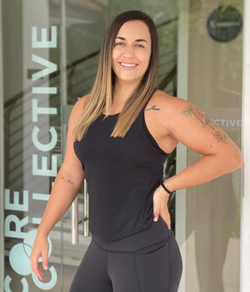 Cindy Roberts
Coach Cindy is a qualified Nutritionist, Muaythai Kru, and Crossfit L-1 Coach. As a 2x South African Muaythai Champion, she loves empowering women with the art of Muaythai and coaching great technique on barbell lifts.
She has helped hundreds of women, lose fat, gain strength and become more confident.
Qualifications:
MNU Nutritionist
Muaythai Kru
Crossfit L-1
Personal Trainer