About Body with Soul
Body with Soul is an integrated allied healthcare and wellness practice offering osteopathy, psychology, dietetics and nutrition, occupational therapy, speech and language therapy and physiotherapy services. Since 2008, they are proud to have treated over 16,000 unique patients from over 53 different nationalities in Singapore.
Body with Soul respects the individual as an integrated whole and provides assessment, treatment and preventative interventions for problems in functioning to improve their wellbeing, physical and mental health and performance and relationships.
Body with Soul's unique proposition is a well articulated model of integrative and collaborative care that aims to deliver the very best health and wellness outcome in a safe and compassionate environment. Their treatment approaches are current, scientific and evidence based and are delivered with high standards of practice ethics.
Their practitioners are qualified and experienced and engage in ongoing professional development to stay current in their knowledge.
Connect with Body with Soul on their website, Facebook, Instagram and LinkedIn.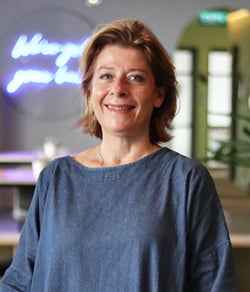 Charlotte Robin
Originally from France, Charlotte graduated in Great Britain in Osteopathy in 2001 and then successfully completed a Diploma in Paediatric Osteopathy in 2003. She has worked in a Central London clinic for over 15 years, and concurrently taught visceral osteopathy to third year students at her alma mater, the British College of Osteopathic Medicine.
Charlotte values her work environments for providing her with an excellent opportunity to maximize patient health outcomes by collaborating with her colleagues in the college and other medical specialists at Medicare. She draws upon that experience of working in multi-disciplinary teams as she joins our expert team of practitioners here at Body with Soul, treating complex musculo-skeletal conditions and problems.
While Charlotte treats many conditions, she routinely works with joint aches and pains such as backaches, headaches and jaw pains, digestive issues, tendonitis, asthma, and discomfort and pains during pregnancy. Charlotte also works with babies from birth, helping with colic, asthma, joint issues and to soothe them after a traumatic and prolonged birth.
Charlotte is bilingual and speaks both English and French fluently.
Kathy Lowes-Switzer
Kathy is a British Paediatric Dietitian, registered both in Singapore (Singapore Nutrition and Dietetics Association) and in the UK (Health and Care Professionals Council and British Dietetic Association).
Kathy has more than a decade of experience working as Paediatric Dietitian in the National Health Services in the UK where she specialised in Gastroenterology at Great Ormond Street Hospital for Children, London. Her work experience also includes working with Children with heart, respiratory and liver conditions at two large teaching hospitals in London.
Kathy graduated as a Dietitian from King's College London in 2007, after completing an honours degree in Biology, a master's degree in clinical nutrition and a post graduate diploma in nutrition and dietetics.
Furthermore, Kathy has volunteered her experience at the charity CHIVA (Children with HIV and Aids) in Africa, where she partnered with remote South African communities and their medical teams. Her experience also extends to her work in Australia, where she had a job as a Project Manager at 'Healthy Kids', a charity that partners with schools to help promote kitchen garden programmes.
Kathy's main interest is in Infant, child and adolescent nutrition and growth, with a specialist interest in gastroenterology.
Jackie Green
Jackie Green is a British Dietitian, registered with the Health and Care Professions Council (UK) and is a member of the British Dietetic Association, Singapore Nutrition and Dietetic Association and Sports Dietitians Australia.
Prior to relocating to Singapore with her family in 2010, Jackie specialised, for over 15 years, as an oncology dietitian at The Royal Marsden Hospital in UK. Jackie works in private practice in Singapore advising clients going through cancer treatment how best to manage their symptoms and maintain a good nutritional status, and those post treatment who want to make positive changes to their diet to reduce the risk of recurrence. Lifestyle changes may reduce the risk of developing several types of cancer which has lead to Jackie's interest in sports nutrition and healthy diets for the management of other chronic diseases such as Type 2 Diabetes and heart disease.