PERSONAL TRAINING
Bodies by Lawrence
About Bodies by Lawrence
Connect with Bodies by Lawrence on their website, Facebook and Instagram.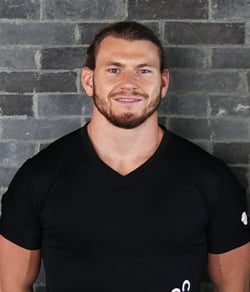 Lawrence Cartwright
Lawrence is one of Singapore's most in-demand trainers. He has been a competitive athlete his entire life in a variety of sports including rugby, athletics, boxing and MMA, and holds an NCFE Certification in Exercise Studies, Coaching Sport & Nutrition. He is a TFW Certified Instructor and Certified Kettlebell Instructor. He ultimately focused on professional boxing having 30 boxing and MMA fights, achieving the British Amateur Boxing national semi-finals two years in succession, and 100% win record in his 3 fight professional career.
Since 2013 Lawrence has focused on being a personal trainer. His skilled and passionate approach has earned him a great reputation and following for his bootcamps, body transformations, and successful training of upcoming boxers for Singapore's White Collar Boxing events.
As a result of the demand for his boxing training, he is adding group boxing classes at Core Collective. Lawrence wakes up everyday to be stronger and fitter than the day before. If you subscribe to his philosophy and embrace the pain for gain; the impossible becomes possible as he will take your body and performance to levels only ever before imagined.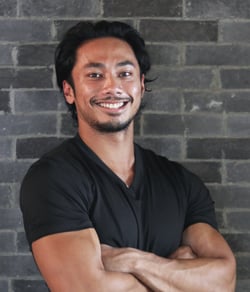 Jay Hykel
With more than a decade worth of rugby experience in the bag, Jay is no stranger to hard work and commitment. In fact, he's a national athlete representing the Singapore Rugby team in both 7's and 15's.
Jay loves training people from different backgrounds — his clientele ranges from kids of all ages to working professionals. He is also an ACE Certified pre- and post-partum trainer.
His motto of "hard work always wins" has seen many successful results be it in body transformations, high intensity bootcamps or sports performance training for kids.
Train with Jay if you want a fit lifestyle that is sustainable yet pushes your boundaries like never before!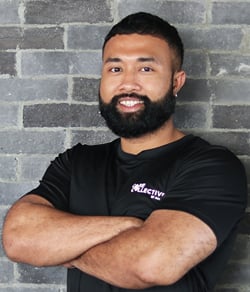 Haikal Herman
Haikal (Kal) worked extensively within boxing at the highest level, having a huge influence on Abdelelah Karroum's WBC Asia super welterweight silver title wins, and most recently, Hamzah Farouk's OPBF silver super featherweight title victory and WBC Asia super featherweight continental title wins.
He also played an integral role at National Youth Sports Institute in enhancing sports performance complementary to developing youth athletes' skills in the sport.