WELLNESS
Belief Psychotherapy and Training
Counselling, Therapy & Training
About Belief Psychotherapy and Training
Welcome to Belief - where the very essence of our company is captured in its name.
Here at Belief, we wholeheartedly embrace the core belief that within each individual resides an immense potential for growth. We get that this realization might feel a bit distant, especially when life throws its curveballs. That's precisely why we're here – to walk alongside you on your growth journey, providing support and helping you tap into your inner strength and resources for positive changes in your life.
Whether you need help addressing immediate personal or interpersonal challenges or problems or to embark on a transformative process of self-discovery and personal development, our commitment is to help you embrace growth and empower positive changes in your life. Our company logo reflects this commitment- a heart that embraces growth and development.
Why Choose Us?
We provide comprehensive services for all client age groups, from children to adults and couples/families.
We have a team of experienced therapists trained in a wide range of psychotherapeutic interventions, including person-centred, systemic, solution-focused, cognitive behaviour, trauma-focused CBT, schema therapy, art therapy, sand play, symbol work, and play therapy.
We are client-centred and adopt an integrative approach, recognising that each client is distinct and no one intervention fits all.
We provide clients with a safe and supportive therapeutic space in person and online.
Connect with Belief Psychotherapy and Training on their website.
Joselyn Loh
Founder & Principal Therapist
With a wealth of experience and expertise, Joselyn spearheads our team as the Founder and Principal Therapist. Holding a Master of Social Science in Professional Counselling, Joselyn's dedication to her craft is evident through her extensive qualifications and affiliations.
Joselyn is a registered counsellor, clinical member, and clinical supervisor with the Singapore Association of Counselling (SAC). Her skill set extends to being a certified Solution-Focused practitioner, an Expressive Therapist (Sandplay and Symbol Work) and a Trauma Focus-CBT therapist. She's also recognized as an accredited Positive Parenting Programme trainer, a certified Prepare/Enrich facilitator for Couple's work, and a valued member of the Trauma Network for Children, an initiative by Temasek Care and KK Women's and Children's Hospital.
Adding to her impressive portfolio, Joselyn is an associate faculty member at the Singapore University of Social Science (SUSS), contributing her expertise in divorce counselling as a course developer and lecturer. Her passion for mentoring new counsellors also sees her taking on the role of clinical supervisor at SUSS.
Joselyn's professional experience spans over two decades, featuring diverse clinical roles in private practice, social service agencies, and educational institutions. Her impact within the domain of family dynamics is particularly noteworthy. As a therapist in the pioneering phase of Singapore's divorce counselling services, she collaborated with government ministries and family courts, providing essential counselling services and programs to support families during the challenging divorce transition. Her leadership skills were also evident in the pioneering work of a parenting support service to the school community. She was interviewed by the Straits Times, Channel News Asia, and Channel 8, where she shared her insights on family-related topics.
Joselyn's journey into counselling began after a successful career in the banking industry across New York and the Asia Pacific region. Her volunteering experiences ignited a passion for counselling, prompting her to undertake further studies and transition into her current work.
Joselyn's international perspective enriches her therapeutic approach, facilitating a deeper understanding and connection with clients from various cultural backgrounds. In essence, Joselyn embodies the heart and soul of our therapy service, bringing a rich tapestry of knowledge, experience, and passion to each therapeutic journey.
Area of specialisation/interest:
Marital issues, divorce work and co-parenting
Relationship issues
Life transitions and adjustments
Issues with self-worth, sense of self and identity
Trauma therapy for adults and children
Marriage Preparation/ Couple Relationship Profiling
Career counselling and profiling
Personality Profiling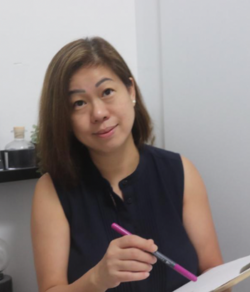 Lee Guat Keow
Senior Art Therapist
Guat Keow, or GK, is a seasoned counsellor with two decades of experience working in educational institutions. She holds a Master of Art in Art Therapy from LASALLE College of the Arts and a Diploma in School Counselling. She is also a certified Early Childhood Educator. Carrying a profound humanistic perspective and over ten years of corporate experience, GK seamlessly transitioned into helping professions in 2005. She stood at the forefront as a pioneer art therapy graduate, orchestrating art therapy placements in educational institutions and medical facilities. Her influence was foundational, as she was pivotal in establishing the Art Therapists' Association Singapore.
GK's dynamic approach seamlessly integrates art into the realm of counselling. This creative method allows clients to express thoughts, concepts, and concerns that words alone might struggle to capture. Her advocacy extends to the children and teenagers she serves in educational settings. As an experienced therapist, she effectively engages with parents and essential stakeholders, bearing witness to tangible growth and transformation in her clients as a testament to her work.
Area of specialisation/ Interest:
Children and Adolescent Therapy
Anxiety Issues
School Refusal
Emotional and Behavioural issues
Parent and Child Relationship
Grief and Loss
Therapy for beginner therapists and counsellors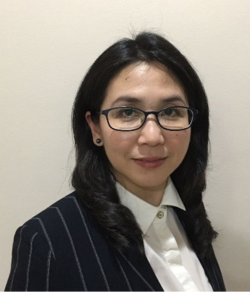 Paula Rusly
Registered Psychologist & Art Therapist
Paula is a licensed psychologist with a Master of Art in Art Therapy. She is a registered psychologist with the Singapore Psychological Society and a registered counsellor with the Singapore Association of Counselling. As a testament to her expertise, she is also a registered art therapist with the Australia, New Zealand and Asian Creative Arts Therapies Association (ANZACATA) and the Art Therapists' Association Singapore (ATAS).
With over two decades of professional experience, Paula has worked with children, young adults, and families towards emotional well-being. Her journey has traversed diverse landscapes, encompassing international and special needs schools, private hospitals, and residential care settings. This diverse background has given her a well-rounded understanding of her client's unique needs and challenges.
One of Paula's shining realms of expertise lies in her work with special needs children—an area that fuels her passion and commitment. She dedicates herself to providing unwavering support and direction to these children and their families, aiding them in navigating the intricate terrain of their lives.
Area of specialisation/ Interest:
Children and Teen Counselling and Therapy
Social, emotional and behavioural issues
Special needs